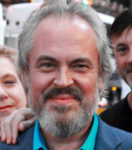 There is a kid-like exuberance about Mischa Kischkum that quickly spreads through the audience. In his debut solo cabaret show, Off the Charts: Songs You Don't Know By Writers You Love (directed by Jason Ellis), the performer comes to the stage and quickly commands it, wearing (among other things) a sly smile and a leopard-print scarf.
He begins with the infectious "Avenue P," from the kids' musical Really Rosie (Carole King, Maurice Sendak). At first, the sound balance on the song seemed a little off—his voice was somewhat buried by the accompaniment. But this problem disappeared in subsequent numbers.
And what a collection of numbers it is. The rarities he's collected here, mostly from lesser-known stage musicals, are not all of equal quality, but there's not a one that isn't worth a good listen. Some are nutty: sung in character voices and/or punctuated by funny vocal sounds that call to mind Spike Jones. Others, however, are touching and emotionally rich. With his flexible voice, Kischkum can deftly deliver a bubblegummy trifle like Marvin Hamlisch and Howard Liebling's "California Nights" (which, he reminds us, was sung by Leslie Gore on an episode of TV's Batman), but it can also be resonant and authoritative on non-novelty songs that call for some gravitas.
Kischkum is quite the showman. He plays guitar on some songs and, at show's end, takes a turn at the piano. His rapport with the audience makes it seem as though he's been doing this kind of show for decades. His balance of song and patter is just right.
As the show's subtitle stresses, the material he's selected is not the work of forgotten songwriters, but, rather, overlooked gems from celebrated composers and lyricists. Kischkum appears to have taken particular interest in the catalogs of Lynn Ahrens and Johnny Mercer. He includes three fun-filled numbers by Ahrens from TV's Schoolhouse Rock, and he gives us a sense of Mercer's scope as a wordsmith, with songs ranging from the cute and clever ("I'm Shadowing You," with music by Blossom Dearie) to the outlandishly hammy and lyrically ambitious ("Bon Vivant," from the musical Foxy, music by Robert Emmett Dolan).
A couple of performances stand above the others. From the 1969 Broadway flop The Fig Leaves Are Falling, we get Albert Hague and Allan Sherman's "All of My Laughter," with its quirky reference to a flying giraffe. It's one of those driving, pulsing eleven o'clock numbers that would seem to be a parody of driving, pulsing eleven o'clock numbers, except that it's so oddly appealing in its own right. On Jerry Herman's "Love, Look in My Window," Kischkum commits absolutely to the lyric: an invocation to a long-dormant heart to bestir itself. My eyes water just recalling it. (At the show I attended, he mentioned that the song was cut from Hello, Dolly! when Ethel Merman turned that musical down, but he neglected to add that it was reinserted when Merman later stepped into the role.) On the evidence provided by Kischkum, both "Laughter" and "Love" should take a more prominent position in the Great American Songbook.
On the other hand, "Welcome to the New World," from Elton John and Bernie Taupin's Lestat, seems unlikely to see many future resuscitations. The melody is reminiscent of other John songs, and it sounds as though it took about 20 minutes to churn out. Taupin's scathing lyrics about "preening, puffed-up Europeans," though, are quite interesting.
No corners seem to have been cut in the preparation of this show. There's a detailed program that is distributed to attendees, including a full song list and brief songwriter bios. Kischkum, himself, fashioned the arrangements and served as musical director, hiring a top-notch band conducted by keyboardist/vocalist Steven Ray Watkins. Don Kelly plays drums, while Matt Sharfglass handles the bass. Dan Busa and Sandra Lagerstrom are the backup vocalists, though Lagerstrom is underutilized.
Kischkum notes that he is planning another show, which will feature original material. Based on the strength of Off the Charts, I believe this future endeavor will be something to keep on the radar.
Off the Charts: Songs You Don't Know By Writers You Love
Don't Tell Mama  –  November 10, December 3, 20
Category: Reviews