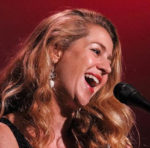 Part of Minda Larsen's prize package for winning last summer's MetroStar Talent Challenge at the Metropolitan Room was a four-performance engagement at the club. Called "My Southern Song" and directed by Marilyn Maye, the resulting show has arrived. In it, Larsen—originally from Jacksonville, Florida—takes a look at her heritage, singing songs about the American South, as well as selections written by composers and/or lyricists with a Southern pedigree.
A key to understanding the content of the show may be found in its title. The program is about Larsen's particular "Southern song"—it's a personal, sometimes autobiographical approach. Clearly she does not intend any sort of musical history of the region. She doesn't deal with the cotton or tobacco trade, slavery, the Civil War, or the sociopolitical life of the South today. She sings no Stephen Foster songs. She doesn't assess the contributions of Memphis and New Orleans to the development of jazz. The program is about the place Larsen called home, how she left it, and how she now has a deeper appreciation of it, albeit from a distance.
She comes to the stage looking relaxed, fresh, and assured—on opening night she wore a sleek charcoal-colored jumpsuit. She launches into a snappy medley of "That's What I Like 'bout the South" (Andy Razaf) and "Mississippi Mud" (Harry Barris, James Cavanaugh; alternate lyrics by Johnny Mercer). You can detect director Maye's touch in this wowza, upbeat first strike. Unfortunately the second number, "Basin Street Blues" (Spencer Williams; additional lyrics by Glenn Miller, Jack Teagarden) has an arrangement with a similarly snappy effect. Underscoring the sameness is the fact that "Missisippi Mud" contains repeated use of the mild oath "Lordy!" while in "Basin Street" we get the exclamation "Lord!" Happily, Larsen next slows things down for a warm rendition of "Georgia on My Mind" (Hoagy Carmichael, Stuart Gorrell). Interpolated into the number is an extended snippet of Otis Redding and Steve Cropper's "(Sittin' on) the Dock of the Bay." I wish that more of the latter song had been included, as Larsen's resonant sound on the deep notes of "Dock" is a pleasure to hear. (Throughout the evening, she gets rich support from pianist/conductor Barry Levitt, bassist Tom Hubbard, and drummer Peter Grant.)
A highlight of the show is a sequence of three songs on the theme of coping with philandering menfolk. In these numbers, Larsen rolls out her acting chops, big time. First up is Dolly Parton's "Jolene," in which a woman who is suspicious about her mate's fidelity confronts a rival and begs her to back off. At one point Larsen pleads, making each word a monosyllabic stab: "Please. Don't. Take. My. Man." The song builds to frenzied desperation. In the second number, "Stand By Your Man" (Tammy Wynette, Billy Sherrill) the wronged woman takes a forgiving tack. Larsen's character is no self-pitying enabler here, but, rather, a powerful alpha female whose self-confident magnanimity promises to bring the straying ram back into the fold. Then, with Johnny Cash's "Understand Your Man," Larsen gives us the opposite solution: get the hell out before the regrets pile up. "I'll be just as gone as the wild goose in winter," she sings with conviction.
A song that is becoming something of a signature for Larsen is Arlen and Mercer's "I Had Myself a True Love." The number was included in her previous Mercer tribute show, and it also figured largely in her MetroStar win. It's clear why she continues to employ it, as it shows off beautifully her vocal and emotional range. In the new show, it sounds better than ever. As she relives the history of her character's love affair, she starts quietly, flashes back on the humiliating and stormy times, and ends the song wrapped in a bittersweet reverie.
Larsen pulls away from the Southern motif a bit with a sequence in which she talks about coming to New York and meeting the Russian acrobat whom she would eventually marry. But she returns to her main theme with a closing sequence featuring three songs from the Jerome Kern and Oscar Hammerstein II score from Show Boat. (When she introduced the song "Bill" on opening night, she credited Hammerstein as lyricist, although most of the song's words were written by P.G. Wodehouse.) While the Show Boat songs fit her theme, there's something a bit odd about ending with a breezily up-tempo "Make Believe." I thought for sure she would return to the stage with an encore that would land more squarely below the Mason-Dixon line, but it didn't happen.
In any case, it's a joy to see Larsen emerging as a major cabaret artist. Her poise and polish, her skills as an actor, and her rapport with her audiences continue to generate well-deserved excitement.
"My Southern Song"
Metropolitan Room  –  May 21, June 1, June 28, August 17
Category: Reviews