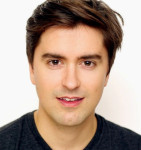 Midnight at the Never Get, a new musical chronicling the tumultuous birth and rise of the Gay Liberation Movement through the relationship of two men whose lives intersect with this historic moment, is being given its inaugural workshop at Don't Tell Mama. The characters are fictional, but the play manages to pack a lot of historical truth into 90 fantastically entertaining minutes on the cabaret's tiny stage.
Conceived by and starring Sam Bolen and Mark Sonnenblick, with an original score by Sonnenblick, the show is so smart, so funny, so moving, and the songs are so well done, that the audience bristles with the excitement of being present at the birth of what might well be a major musical. Bolen plays Trevor Copeland, a singer who meets and falls in love with Arthur Brightman, a pianist at a gay bar in pre-Stonewall New York City. We meet Trevor as he presents a cabaret in honor of Arthur, who has passed away. He believes that "your whole life is a rehearsal for your memory," and his show will celebrate and share that memory with the audience. In reality, he is trying to conjure his lost love for one last collaboration and for redemption from the pain they have suffered.
We follow the pair as they take up residence in a popular bar called The Never Get, run by a transvestite named Sister Etcetera. As their popularity grows, they become confident enough to start using "real" (i.e., male) pronouns reflecting their growing relationship. At a time when love still dared not speak its name, Trevor gains fame and a surprising level of success singing its name in his lover's increasingly sophisticated songs. Liberated from an artistic closet, Arthur's talent flourishes and eventually attracts the attention of movers and shakers outside of the gay "ghetto." Recording studios come with offers—provided pronouns are changed back to traditional heterosexual norms.
At first the writer rejects these restrictions and is content to create in the admittedly small pond of New York gay life, but soon he begins to feel limited by his surroundings and intimidated by the sexual revolution going on around him. Set off by some younger gay rebels, he greets their passion and politics with anger and disdain. He shouts at them, "I am not defined by who I fuck!" He is open in his songs, but has difficulty translating that openness into his career and his life. The pressures take a toll on the lovers as Arthur leaves Trevor (at first, temporarily) for the West Coast when Hollywood calls—precipitating the drama and tragedy of the piece. All of this is related in a remarkably subtle and involving way. As memories become hazy, whether through the passage of time or the avoidance of pain, Trevor begins to correct events and conversations as he recounts them.
Sam Bolen grabs the stage with an immediacy and electricity that are the definition of a star turn, whether perched provocatively on the piano, or pacing the stage as if trying to remove himself from the pain he is conjuring, or huddled on a stool on the side of the stage losing himself in a small ballad. Early on his vocals have a sameness and push a bit too much, but as the show goes on, his singing gains in strength and subtlety and he perfectly embodies the bold brittle surface masking the vulnerability underneath. Mark Sonnenblick's piano provides wonderfully orchestral backing throughout (with the help of Mike Brun on bass and Josh Bailey on drums). When called upon, he sings with great style and emotion, as a solo or in duets with Bolen. His unexpected dramatic bursts when he leaves the piano and the music provide unexpected power. The songs themselves are a marvel. There are ten songs in the show at the moment, and there is not one misstep. Solid, literate, witty lyrics, paired with melodies that recall the Great American Songbook in entirely appropriate ways for the time and story at hand, provide a score that is wonderfully familiar and entertaining. The book is just as strong and the masterful direction by Max Friedman doesn't miss an opportunity to illuminate and deepen the moving story being told.
The pain, the injustice and the necessity for revolution crystallize in these two sharply drawn, sympathetic fictional characters in surprisingly visceral ways. At this early stage, the piece is already so accomplished that I would hope it has a speedy rise to a full production. We need it, and Midnight at the Never Get deserves it.
Don't Tell Mama – April 6, 9, 11, 14, 15
Category: Reviews