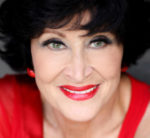 At one point during the opening night of her Café Carlyle debut show, "An Evening of My Favorite Songs," Chita Rivera noted that she has been running around for years just being her 35-year-old self, without noticing exactly how much time has elapsed. If this show is any indication, the Rivera approach to aging is a wise one. This is a fiery, funny and thoroughly entertaining evening. I knew, of course, that this woman—who made her Broadway debut 65 years ago—was still going strong, but I wasn't prepared for exactly how strong she's going.
The evening is chock full of showstoppers, but they're so varied in tone that there's never a sense that she's repeating herself. She opens with a rather rambunctious pairing of "I Won't Dance" (Jerome Kern, Dorothy Fields, Jimmy McHugh) and "Let Me Sing and I'm Happy" (Irving Berlin). This mash-up points out the fact that, at the Carlyle, the intrepid song-and-dance woman must rely largely on song because of the limited dimensions of the room's stage. "I have a little trouble standing still," she confides early on. No worries. She is so expressive with hands, arms, and torso throughout the performance that it seldom seems that she is reined in.
A highlight from the first third of the show is a driving version of "Sweet Happy Life (Samba de Orfeu)" (Luiz Bonfa, Antonio Maria, Norman Gimbel, Jorge Ben) that samples heavily from the Sergio Mendes version of "Mas que Nada." At the show I saw, Rivera playfully dropped her jaw when her talented music director and drummer Michael Croiter let go with a particularly forceful wallop near the end of the number. (Croiter's quartet is a pleasure to listen to throughout the set.)
It seems that many of Rivera's favorite songs are—no big surprise—theatre songs. The lion's share of the program's vocal selections are from musicals she has appeared in. This gives her a chance to do some lighthearted reminiscing about theatrical colleagues she's worked with over the years, including Leonard Bernstein, Dick Van Dyke, Gwen Verdon, and Antonio Banderas. A pairing of Bernstein/Sondheim songs ("A Boy Like That," "America") written for the character of Anita, whom she portrayed in 1957's West Side Story, is an understandable crowd pleaser. But I was even more impressed with her beautifully modulated rendition of "Where Am I Going?" (Cy Coleman, Dorothy Fields) from Sweet Charity—a number she sang in that show's first road company. The arrangement here is soulful and smooth, at times reminiscent of what's been called the "quiet storm" sound. She builds the emotion at a leisurely pace and doesn't peak too soon. On the line "I'm good and sick of it," she spits out the words "sick of it" as if they tasted of bile.
Excluding Liza Minnelli, Rivera is arguably the performer most associated with the songwriting team of John Kander and Fred Ebb. The last part of her program includes five Broadway selections from this duo, including two from last season's The Visit. The evening reaches its climax with a pair of songs from Chicago. On "Nowadays," Rivera struts with hat and cane and does a dead-on vocal impersonation of Verdon. Then she turns to her own big solo from the show, "All That Jazz." When she talks about going to the bowels of an out-of-town theatre and first hearing the vamp for this song, it whets your appetite for her full delivery of the number. She doesn't disappoint. I've heard the song countless times in cabarets and piano bars. But there's nothing quite like hearing it from the woman who introduced it—especially when she elongates and bends the word "jazz" so that it comes out as a lyrical pretzel: "jeah-yeah-uhz."
It's frequently a worthwhile experience hearing a legendary performer sing his or her signature numbers. But when—as here—that legend delivers the goods with such remarkable freshness and excitement, it becomes an occasion for a chorus of huzzahs.
"An Evening of My Favorite Songs"
Café Carlyle  –  April 19 – 30
Run extended: May 18 – 21
Category: Reviews