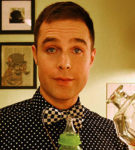 It's always great to be surprised in cabaret. Sometimes it's one song, one story, one character that can shake you out of your club-going assumptions and expectations and genuinely enthrall you. More rare is an entire show that surprises you. That's just what we have in Matthew Holloway's remarkable "Mother Always Said!", which just returned to The Duplex after debuting earlier this year. Hell, this show is practically a trip to another planet!
In fact, interplanetary kidnap and alien experimentation (not to mention impregnation) figure strongly in the wild yarns of growing up with "Mother," spun to surreal heights by Holloway's hilarious and unforgettable stage creation—as though the emcee from Cabaret and Joan Rivers had had a child. And like other great comic characters, the brittle, yet somehow emotional, façade never waivers in his laugh-filled, drug-filled, sex-filled, sometimes shocking and always riveting "reminiscences"—nor in the smartly chosen, inventively arranged pop songs.
From his initial entrance, one's eyes are glued to this odd amalgam of sartorial and make-up choices that are bizarre and absolutely right at the same time; it's part theatre, part drag, and entirely his own look. The attractive, traditionally cut hair, the glittered eye-shadow, the narrowly applied deep red lipstick, the black rhinestoned blouse under the billowy, to-the-thighs black jacket that might well have come from Dorothy Zbornak's closet provide the perfect visual for the strangeness we are about to experience.
His hands fly around when he sings like small birds having fits. His delightful hints of choreography scattered throughout the proceedings (a slight kick line here, a dramatic walk downstage there) accumulate over the course of the evening into a physicality that is every bit as unique and riveting as all the other elements of the show. He uses the phrase "ladies and gentlemen" like a mantra—as if it were a life preserver for him to return to again and again to avoid being swept away and lost in the waves of insanity he conjures.
Then there's the voice: a raw, at times slightly off-pitch sound that takes a bit of getting used to; however, the singer's sharply delivered interpretation of the lyrics, and his total commitment to the stories of his songs—however dark and wild those interpretations may become—dispel any reservations. His opening medley starts with an unexpectedly aggressive take on Todd Rundgren's usually plaintive "Hello It's Me," proceeds to the explicitly hyper-sexual "S&M" (Mikkel Eriksen, Tor Erik Hermansen, Sandy Wilhelm, Ester Dean), and ends with "The Trolley Song" (Ralph Blane, Hugh Martin); the odd progression to the Judy Garland hit seems somehow inevitable.
In his more-than-capable hands, Tori Amos's "Silent All These Years" is a strong and moving revelation. Here, and time and again as the hour progresses, this tragic clown reveals a very human pain and warmth that manage to co-exist with the madness that never leaves his eyes. The wonderfully sexual undertones of Melanie Safka's "Brand New Key" become gleeful overtones (heightened by the aforementioned kick line); they are followed by the obsessive desperation of "Superstar" (Bonnie Bramlett, Leon Russell). The madly musical poetry of Laura Nyro is a special favorite of the singer, and the two show themselves to be a perfect match with Nyro's enjoyably incomprehensible "When I Was a Freeport and You Were the Main Drag" and her "And When I Die," the show-ending wrap-up of Holloway's philosophy. I haven't heard as passionate a version of James Shelton's "Lilac Wine" since the brilliant Novella Nelson used to include it in her legendary cabaret appearances. The arrangements and music direction of Josh Kight are never showy, but consistently intricate, dramatic, and witty.
"Mother Always Said!" is really a two-character piece. Even though she never makes an actual appearance, the woman in the title is an integral part of the show and its success. She is a complete horror, by turns deriding, mistreating, and belittling her offspring as she teaches him life lessons and creates the creature we see on stage. She is so vividly drawn that I found myself thankful that Holloway had chosen comedy as his medium to reveal her to us. Otherwise I'm not sure when the nightmares brought on by encountering her would have ended.
"Mother Always Said!"
The Duplex  –  July 15, 22
Category: Reviews