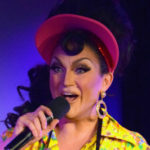 There has been a lot of talk recently about living in a "post-racial" time (by those who refuse to acknowledge the persistent, systemic racism in American society) or in a "post-gay" time (by those who consider marriage equality to be the end of the civil rights battle). I have noticed in a number of shows in New York cabaret lately that we seem to have entered a "post-drag" time, at least in major urban areas. Rather than embrace drag as a source of camp, celebrity impression, and risqué sexuality, some performers are using cross-dressing as a tool to reveal inner feelings and turmoil, to dramatize and dissect songs in a different light, or to more sharply satirize and illuminate political and social norms—and not just for a quick and easy laugh, although thankfully, those remain in abundance as well.
An example of this is former RuPaul's Drag Race contestant and West Coast entertainer BenDeLaCreme, who is currently in the middle of an extended run, at the Laurie Beechman Theatre, of her new show, "Inferno A-Go-Go," in which she tackles nothing less that Dante's "Inferno" and creates a literal cast of thousands using bits of costume, a lot of green screen, charmingly artless graphics, and ingenious projections. In another time or place, she might be hailed as a new Carol Burnett because of her uncanny ability to inhabit so many different characters so well and so hilariously. I would hazard a guess that a good portion of the audience, if not informed otherwise, would never suspect that they have been watching only one performer for the entire show.
DeLa (to use the name with which she refers to herself) is our guide to the infamous nine circles of hell (she calls them "suffer rings"), with stops at, appearances by, and shades of The Wizard of Oz, Wayland Flowers and Madame, western movies, religious intolerance, the Andrews Sisters, Shari Lewis, Trump supporters, and celebrity cruise lines—to name but a few of the myriad references and targets that swirl in and out of the piece. Add to that the non-stop puns that fly around in such abundance that it would take at least a second visit to get, and appreciate, them all. It can all be a bit dizzying, but in the most delightful way. There are also songs galore—some of her own devising, others hilarious parodies of material by the likes of Miley Cyrus, Foreigner, The Trammps, and (of course) Styx (with "Come Sail Away" used in a scene on the eponymous river).
The costuming is as inventive as it is low-rent. DeLa has a big, unruly wig that she refers to as her "hell toupee," and her most prominent costume of choice (a two-piece bathing suit from a time before bikinis) makes her look like nothing less than an outlandish, demented Annette Funicello. I particularly liked the "Make Hell Great Again" trucker's cap on the head of a centaur who accidentally shoots her with an arrow. As he looks at it sticking out of her backside, he says "…in the big picture this stuff won't matter." DeLa argues that her butt matters, to which the right-wing horse-man responds, "All butts matter."
The production certainly doesn't look like it cost a million bucks, but it delivers like it: the computer generated visuals are spectacular, and some of DeLa's interactions with them are jaw-dropping. There are a few dead spots here and there, but I have a feeling those will disappear as the show gets into its run and things naturally tighten up.
One scene in particular illustrates my opening thesis. DeLa arrives at a forest overseen by the Harpy, whose job it is to care for the trees, which are the souls of suicides. There are no jokes; there is no payoff. She wonders why such troubled souls deserved this fate, to be exiled in hell, and why they don't get the compassion and understanding and peace they deserve. It is a quietly powerful moment with a big, unexpected message, delivered in these vaudevillian surroundings. That BenDeLaCreme can conjure that kind of serious, thoughtful consideration as successfully as she creates the laughter and good will of the rest of the show is truly remarkable.
The message of the show is particularly relevant in 2016: We all make the hell that we live in. Bitter medicine to be sure, but medicine that we all have to swallow. BenDeLaCreme is just the spoonful of sugar we need to make that a bit more palatable.
"Inferno A-Go-Go"
Laurie Beechman Theatre  –  July 28-31, August 3, 4, 6, 11-14, 18-19
Category: Reviews