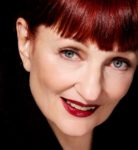 Jazz singer Martha Lorin has been a continuing artist in residency at Cafe Noctambulo at Pangea this year. I attended her most recent appearance at the club. I would be hard-pressed to think of a better room for this kind of sophisticated, intimate jazz show. Lorin is a take-charge, take-no-prisoners jazz vocalist in a long line of strong, talented female singers like Anita O'Day. There is a sense of adventure and abandon in her set that is thrilling and can even be a bit daunting to an audience member who might not yet trust her musical powers. She delights in shifting and bending time to a sometimes audacious degree, but always comes out on top. While there may be a planned set, her adherence to it is by no means assured.
Her very talented trio—Matthew Fries on piano, wunderkind John di Fiore on drums, led by Steve LaSpina on bass—opened with an instrumental of "I'm Old Fashioned" (Jerome Kern, Johnny Mercer). Lorin was so taken with it that she talked them into playing an entirely different arrangement for her to sing as her first song. This kind of freedom is heady stuff for an appreciative audience.
She swung through the standard "Day by Day" (Axel Stordahl, Paul Weston, Sammy Cahn) and followed it with a personal take on "Get Happy" (Harold Arlen, Ted Koehler), which she offered as advice to get through post-election blues…and panic. She infused "Body and Soul" (Edward Heyman, Robert Sour, Frank Eyton, Johnny Green) with a palpable longing. Duke Ellington and Billy Strayhorn's "Daydream" moved magically from a haunting ballad to lightly swinging bossa and contained a beautifully sustained solo by LaSpina. Looking back on the beginnings of her career, she treated us to "The Shadow of Your Smile" (Johnny Mandel, Paul Francis Webster)—the very first song she sang as a professional singer, at 19 years of age. And from her debut recording (which I owned on vinyl back in the day) she included "Ill Wind" (Arlen, Koehler) in an unusually strong and confrontational style that suited the song quite well, indeed. Here and elsewhere, she revealed that she has acting chops to stand side by side her obvious vocal chops.
I might wish that she kept her eyes open a bit more often and that she was less lazily imprecise with lyrics. These were recurring faults on display throughout an otherwise musically exciting and emotionally satisfying evening of song, but they stood out in sharp relief because everything else was so good. She will be returning for the final appearance of her residency on December 20.
Category: Reviews