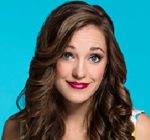 Many—perhaps too many—cabaret performers frame their autobiographical shows in terms of songs that influenced their decisions to aspire to a show business career, or that they eventually got to sing for a paying audience—or both. In her terrific show at Feinstein's/54 Below, Laura Osnes turned this "and-then-I-sang" cliché on its head. Osnes, who at age 31 and with barely a decade in New York, has starred on Broadway in productions as diverse as Bonnie and Clyde and Cinderella and as familiar as revivals of Grease, South Pacific, and Anything Goes. But we didn't hear any songs from those shows. Despite her seemingly uninterrupted career progression, there were many more shows that Osnes didn't get, for a variety of reasons: she simply wasn't offered the job, despite usually multiple auditions; she was offered the job, but turned it down to take a more promising one; the workshop she took part in never made it to a full production (or someone else replaced her when it did); or a planned production was cancelled. Those were the musicals "I came very close to doing but that I never got to do." Those near-misses provided the splendid variety of numbers that comprised the Osnes set, which was aptly named "The Paths Not Taken."
She opened her show with "Not for the Life of Me" (Jeanine Tesori, Dick Scanlan), from the stage version of Thoroughly Modern Millie. This was Osnes's go-to audition song early in her career, and here doubled as reinforcement of her explanation of why she dropped out of college in her sophomore year to head for New York and a stage career. So did "Far from the Home I Love" (Harnick & Bock) from Fiddler on the Roof, in a dreamier version than we're used to hearing from Tevye's daughter Hodel—the role Osnes wanted but didn't get. Her take, abetted by the arrangement of her musical director and pianist Fred Lassen, seemed more about leaving her home in Minnesota for the bright lights of Broadway than it was about Hodel's leaving Anatevka to marry a non-Jew in the farther reaches of Russia. Two things should be said about her show here: 1) While not exactly upbeat in every song in her set, Osnes never indulged in self-pity about not getting or taking a job, preferring to regard the next one she did get as better or at least as good, or an opportunity to do something different. 2) The superior quality of "The Paths Not Taken" would not have been possible without the splendid work of Lassen on piano, Pete Donovan on bass, and Sean McDaniel on drums.
In such a program, there were bound to be a couple of at-least-semi-obscurities. One such was a power ballad with a borrowed title: "When I Fall in Love" (Lindsay Warren Baker, Amanda Jacobs), from a much-revised Pride and Prejudice (one of many attempts to musicalize the Jane Austen novel). Osnes, as Elizabeth, who sings the song when she first meets Darcy, never made it out of the workshop, which is too bad, since both the song and her delivery of it were just lovely. Another discovery, and equally effective, was "What I Meant to Say" from Charles Aznavour's score for "My Paris," about Toulouse-Lautrec (with English lyrics by Jason Robert Brown), in which Osnes was to play Suzanne Valadon.
We got to see how Osnes would have handled "Heather on the Hill" (Lerner & Loewe) had the Brigadoon Broadway revival not been cancelled, her take on "Part of Your World" (Alan Menken, Howard Ashman) had she landed the role of Ariel in The Little Mermaid, and "Popular" (Stephen Schwartz) had she replaced Kristin Chenoweth in Wicked as planned. Osnes was in the running for two Sondheim ingénue roles: in Sweeny Todd (here represented by "Green Finch and Linnet Bird") and A Little Night Music ("Soon" with a sampling of "A Weekend in the Country").
Osnes's shimmering vocal versatility was on view in such numbers as "There's a Fine, Fine Line" (Robert Lopez, Jeff Marx) from Avenue Q, the title song from Bring It On (Lin-Manuel Miranda, Tom Kitt, Amanda Green), and "Let Me Be Your Star" (Marc Shaiman, Scott Wittman) from the television show "Smash." These were all from her failed auditions, along with those from Waitress ("What Baking Can Do" by Sara Bareilles) and Dames at Sea ("The Sailor of My Dreams" by Jim Wise, George Haimsohn, and Robin Miller). As she showed again with her rendition of Lerner and Loewe's "Show Me" from My Fair Lady, yet another non-starter for Osnes, she is a wide-ranging dramatic soprano who could take on all the Julie Andrews legit roles (well, maybe not Victor/Victoria just yet).
Her surprise finale the night I saw the show provided both hard news and a quartet of guest artists. Bandstand, the original musical by composers Richard Oberacker and Robert Taylor about a 1945 orchestra made up of World War II veterans, is coming to Broadway in April, she announced. Then Corey Cott, her co-star from the world premiere production of Bandstand at New Jersey's Paper Mill Playhouse last season, bounded onstage, accompanied by three members of the all-important onstage band, to join Osnes in a song from the show, "Worth It." (Like Osnes, Cott, the bandmates, and most of the rest of the original Bandstand cast will be in the Broadway transfer—this time with Lassen as music director as well as Donovan and McDaniel.) Ah, but, you say, this is one time Laura Osnes did get the show. Ah, yes, I say, but somewhere between Millburn, NJ and the Main Stem, "Worth It" was cut from Bandstand. It counts as a path not taken.
"The Paths Not Taken"
Feinstein's/54 Below  –  November 27, 29, 30
Category: Reviews