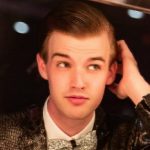 With Feeling Good, his new show at The Green Room 42, vocalist Mark William celebrated the release of his debut CD, Mark William: Come Croon With Me. The recording is billed as his "critically acclaimed nightclub act"; accordingly, the show was a hybrid of nightclub- and cabaret-style performance. This is sometimes the case with a singer as versatile as William, and it provided for an entertaining evening, albeit a little bumpy for connoisseurs of cabaret.
As an entertainer, William has many attributes in his favor, including a classic, young-Frank Sinatra poise, a beautifully resonant baritone voice, and great charisma. It's not often a voice or poise this mature appears in such a young man, especially in members of his generation. These attributes raise the bar on his performance to a level one hopes he will grow into.
The evening was a mixed bag of "nightclub" arrangements devised by music director Clint Edwards, and some cabaret-style delivery of lyrics, sung in a new way. Director's Preston and Richard Ridge crafted a show that seemed to be a journey from youth and exuberance to a more mature statement of art. Although this trajectory was not absolutely clear, it was a journey I was happy to accompany him on.
Opening with an overture (rare in cabaret, but fun nonetheless), Edwards led the band with command and dexterity. In addition to Edwards on piano, the group consisted of Jonathan Ward on percussion, Sam Zerna on bass, Jernej Bervar on guitar, Oskar Stenmark on trumpet, and Dan Meinhardt on saxophone; their sound was impressive and they set the stage for an evening of fun.
In the top half of his show, William served up jazzy "Sinatra-fied" interpretations of songs from Broadway—"A Lot of Livin' to Do" (Strouse & Adams), "Shine It On" (Kander & Ebb), "Never Never Land" (Jule Styne, Comden & Green), "I'm Flying" (Moose Charlap, Carolyn Leigh), "On a Clear Day (You Can See Forever)" (Burton Lane, Alan Jay Lerner), "Put on Your Sunday Clothes" (Jerry Herman)—followed by a Peter Allen medley. The entertainment value was high. This youthful nightclub presentation can reach across the generational divide and bring a new audience to this music. But it was the art that followed that really caught my attention.
In a virtual "second act" (there was no act break), William revealed more of himself, beginning with an original song "Wherever We Land." The song was good and began the process of introducing the audience to a new side of Mark William. This was aptly followed by a pairing of "I've Gotta Be Me" and "Golden Rainbow" (Walter Marks) and a truly wonderful interpretation of "Just the Way You Are" (Bruno Mars, Ari Levine, Philip Lawrence, Khari Cain, Khalil Walton).
This more inviting and less polished William seemed to relax—even his hair seemed to relax—as he boldly stated that there would be no substitution of pronouns in "The Trolley Song" (Hugh Martin, Ralph Blane). With a renewed personal connection, "Feeling Good" (Leslie Bricusse, Anthony Newley) and a medley that included "The Look of Love" (Bacharach & David) and "The Way of Love" (Jacques Dieval, Mariano Ruiz, Al Stillman) brought him more into the lyric. And "I Am What I Am" (Jerry Herman) and "Home" (Charlie Smalls) seemed like personal statements of a young artist coming into his own.
William has the nightclub act down pat, and he's got the goods to deliver this type of entertainment across the country. His "second act," however, worked on many levels that are important, especially in New York. I would suggest that for New York audiences, the order of show be tweaked to give cabaret cognoscenti a little more meat and potatoes before serving the fluffy desert, and that the lyric connection that peeked through in the latter part of the show be brought more fully into the earlier material. What made Frank Sinatra remarkable was his ability to communicate the lyric, no matter the musical arrangement. The arrangement may make our toes tap, but the lyric makes our hearts throb.
Mark William shows a capacity for both popular entertainment and art, which is a rare combination. I look forward to watching this wonderful young performer develop into the artist he can be.
Feeling Good
The Green Room 42 – November 22
Category: Reviews