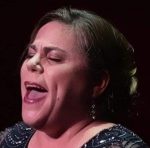 Lately it seems that singer Gretchen Reinhagen's name pops up most often with the word "director" attached, but in her continuing residency at Pangea the words "host" and "star" are more to the point. Using her most recent night as a celebration of her new CD, Take It With Me, Reinhagen focused on a number of songs from the recording to great effect, abetted in no small way by music director Tracy Stark and back-up vocalists Mardie Millit and Laurie Krauz. She opened in a low-key but inviting style with Stark's "Good Life" and quickly followed with a more energetic "Good Thing Blues," which she and Stark co-wrote. Even in potentially big moments and numbers, the singer remained pleasingly understated which allowed both the storytelling and the humor to shine.
Special guest, singer-songwriter Karen Mack, contributed "Different for Girls" to both the CD and this show; Reinhagen's performance of it was genuinely touching. The song was followed by Mack joining her on stage for two terrific duets: a somewhat campy, somewhat exciting, entirely delightful reworking of "No More Tears (Enough is Enough)" (Paul Jabara, Bruce Roberts) that had no one in the room longing for Barbra Streisand and Donna Summer. The bluesy warhorse "Stormy Monday" (Aaron "T-Bone" Walker, additional lyrics by Reinhagen and Mack) was filled with side-splitting scat (not a phrase one gets to write every day), wonderful repartee, and legitimate blues chops.
Thanks to an arrangement by Paul Greenwood with backing vocals arranged by Stark, "Don't Rain on My Parade" soared with a unique and infectious groove. Reviving Dale Gonyea's very funny "Name Dropping" was a smart and surprising choice, while a revisit to a vintage bit of Kaye Ballard special material, "Teeny Tiny" (Marshall Barer, Ballard), kept the laughter going. A thoughtful "It Goes Like It Goes" (David Shire, Norman Gimbel) went off track as it grew into Bob Dylan's "I Shall Be Released" in which lyric importance fell by the wayside, overtaken by gospel-rock wailing. But that rare misstep in a mostly successful evening was remedied by a brilliantly realized closing number (and title song) "Take It With Me" (Tom Waits, Kathleen Brennan) that was masterful. It also made her announcement that her residency has been extended into 2020 all the more welcome.
Pangea–November 19
Category: Reviews