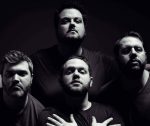 Anyone fortunate enough to have seen Tommy J. Dose, Brian Kalinowski, Paul Pilcz, or Jon Satrom perform in the piano bar at Don't Tell Mama, or at Brandy's or some other open mic room, knew before Mama's Boys started that there would be lots of good singing—and there was. What there wasn't, was lots of cabaret. The guys brought their piano bar sensibilities onto the stage at Don't Tell Mama rather than take advantage of the intimacy of the venue and the attention of a captive audience and the possibility of personal storytelling. There were good feelings, but few deep feelings.
With excellent musical accompaniment from Brian Fishler on drums, Amanda Ruzza on bass, and music director Elliot Roth on piano, each singer had moments that soared, but the sameness of the dynamics and the often-uninspired material clipped their wings before they could really take flight. Time and again a song would start small as a solo, with lots of promise, only to morph into the four voices singing loudly, whether or not the addition of the other singers was called for musically or dramatically. I often tell students that there is a difference between a song one likes to listen to and a song that one should sing. I frequently felt that the material fell into the former category. Each song was technically well sung but revealed little about the singer or the story being told. This was audience-rousing piano bar singing—albeit quite good piano bar singing; but with so much talent on display, I wanted more.
Highpoints included "Love Yourself" (Ed Sheeran, Benny Blanco, Justin Bieber) paired with "King of Wishful Thinking" (Peter Cox, Richard Drummie, Martin Page). Satrom's opening moments on "Just So You Know" (Max Demers, Philip Drennen, Dan Scott) were lovely. The addition of the other voices, had they added some orchestral color to the vocal, might have underscored his connection to the material, but it became about the vocals powering through the melody for the sake of sonics over emotions. Dose had barely begun to explore John Hiatt's "Have a Little Faith in Me," when the background vocals intruded on a story I wanted to hear fleshed out. There was a doo-wop medley in which the four reveled in a nostalgia that was not really their own and left me wishing they had applied this style to more unexpected material. The same held true for an unsurprising Broadway grouping. The evening closed with a group of songs by some of the creators of Broadway's recent past by the likes of Pasek and Paul, Lin-Manuel Miranda, and Jonathan Larson; but with little personal interpretation, they left me cold and reminded of the thinness of what now passes for musical theatre. They were covers, not reinventions, of songs that need a more personal take to thrive separated from their shows. The audience's hoots and hollers became as predictable as the key changes and increasing volume.
One last note, another thing I always recommend to students: they should perform as if they were in front of a roomful of strangers, no matter how many friends and family might be present in the room. There were references in the patter to people and incidents, with no further description; many in the audience responded with knowing laughter, leaving the rest of us to wonder what the joke was. This bewilderment stayed with me to the last, as Mama's Boys closed with "Chasing the Sun" (Sara Bareilles) with its recurring refrain "a cemetery in the center of Queens." There was so little connection to the lyric, that the song lost its metaphorical impact and left me wondering what that cemetery had to do with the four very talented young men I had just watched for an hour and left me wishing they had given me more of a glimpse into who they are.
Don't Tell Mama – April 1, 8
Category: Reviews