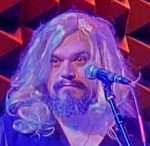 Return with us now to the thrilling days of yesteryear—the days of Charles Ludlum and the Ridiculous Theatrical Company, the days of Charles Busch and Psycho Beach Party. With Ravenswood Manor, directed by Ellie Heyman and recently seen at Joe's Pub over two evenings, with three "episodes" each evening, writer/star Justin Sayre makes his bid to capture the camp extravagance of those earlier landmarks. With a few serious reservations, I believe he came remarkably close to achieving that goal.
For obvious budgetary reasons, the evenings were more radio drama than full production, but in an age in which Chicago can morph from a full-fledged Broadway show into a concert with a budget of 12 dollars and run forever, this is not really a problem. With a few dresses, some sensible heels, a fright wig or three, sheer acting talent, some well-chosen slides, and yeoman work from Henry Koperski on piano (providing a non-stop underscoring filled with cinematic scope and wit), the wild, weird world of Ravenswood Manor was conjured. Imagine Norma Desmond's mansion, haunted this time both literally and figuratively, and you'll get a sense of the setting. The evenings were filled with intrigue, betrayal, severed heads, family reunions, mad scientists, outrageous sex, witches, drugs, and a journey to hell and back. There was more than enough to be presented as two separate shows each evening; unfortunately each evening's presentation seemed to go on long enough for two shows.
The first evening, in particular, could have benefited from one more draft—tightening the plot, sharpening the jokes, and maybe jettisoning a subplot and/or a couple of characters. For a lot of the show, I had the feeling that the ink had not yet dried on the paper by performance time. Anyone who has seen a Justin Sayre show knows that he can write, and write funny, but the humor was constantly diluted and undercut by the length and lack of precision. The final three episodes gained a momentum that was lacking in the first three and allowed the project to end on an especially high note.
The performances were a mixed bag, which was perhaps inevitable in this kind of endeavor, but when it was good it was very good indeed. Star turns abounded. Rob Maitner as Sarah Punt, the ageless housekeeper who was part Mrs. Lovett and part Mrs. Danvers, hit every line out of the park; often a single phrase or word brought forth gales of laughter. As sleazy mustachioed Sheridan Ravenswood, Nadia Quinn brightened the proceedings with each appearance. Aaron Jackson as Paisley Bennett, long lost daughter of the mistress of the mansion, started slow, but by the second night his deluded ingénue with demonic loins was a constant delight. In a series of roles, Philip Taratula failed to register on the first night, but on the second night he embodied the "head" of the family, Malfonia Ravenswood, spectacularly—matched by Julian Fleisher's inspired Angelane Ravenswood and Sayre's star turn as the acid-tongued ex-movie star Bettina Doors, the lady of the manor. I could have watched their bitchy ménage all night.
I had a good time visiting Ravenswood Manor, but had a bit more time, effort, and polish been applied to the project, I might well have loved it. Sayre is much too talented—as evidenced by the great deal of legitimate humor in the piece—to settle for the ragged, unpolished, unfinished style that today often masquerades as comedy. Perhaps when the promised future episodes play Joe's Pub, they will have reached a level consistently high enough to match the best of what has already been presented.
Joe's Pub – April 27,28
Category: Reviews