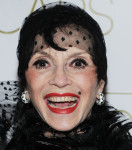 When she takes the cabaret stage, Liliane Montevecchi is not just regal. She's an entire royal court. At center is the monarch herself, with her imposing demeanor and effortless power to keep all eyes on her person. But she's also her own jester—throwing mischievous, sometimes naughty quips to the audience. Likewise, she's her own bodyguard. At points she lets loose with sharp barks of faux laughter that seem meant as a warning to her audience: Enjoy the show, but don't get too familiar. And with people on hand like the guy at her recent engagement at Feinstein's/54 Below who shouted out an inane "Ooh-la-la!" who can blame her for being guarded?
Dressed in an outfit with one ruffled seam split to the hip, Montevecchi held forth for an hour or so in a program designed to highlight all of her varied and considerable talents. She showed off her skills as raconteur, chatting about making movies with Brando and Astaire. She made us laugh by uttering the fantastically ironic clause "When I was young and simple…" (Young? Sure. Simple? Come on.) She was in perpetual motion, reminding us that she started out as, and will always be, a dancer. At one point she used the surface of the grand piano as her barre, thrusting out a ballerina's leg and demonstrating more elasticity at age 83 (a number she proudly proclaimed at one point) than most of us came close to having in our youthful prime. "This stage is too small!" she groused, only half kiddingly.
Many of the songs she performed were stirring anthems to French sensibility, such as "There Is a Time" ("Le Temp") (Charles Aznavour, Gene Lees, Jeff Davis), "I Love Paris" (Cole Porter), and the show-stopping "Irma La Douce" (Marguerite Monnot, Alexandre Breffort, Julian More, David Heneker, Monty Norman.) She tended to deliver these selections in just the sort of boisterous, bravura way you would expect. But during the more contemplative numbers, such as "Les feuilles mortes" ("Autumn Leaves") (Joseph Kosma, Jacques Prévert, Johnny Mercer), she revealed a lovely secret: her vocal cords and her acting muscles have retained the same flexibility as those dancer's limbs of hers. I don't believe she is a Method actor—she doesn't seem to work "from the inside out"—but her surprisingly delicate, nuanced way with a ballad offers ample evidence of her interpretive skills.
The centerpiece of the evening was a trio of songs that spooled one after the other to tell a familiar three-act drama of innocent love destroyed. "But Beautiful" (Johnny Burke, James Van Heusen), which Montevecchi sang while perched on the piano, was a pensive hymn to the irresistible appeal of romance. Next came brokenness and betrayal, with her aching-voiced rendition of "Ne me quitte pas"/"If You Go Away" (Jacques Brel, Rod McKuen). The third act spoke of withdrawal from the love game, with the singer's burning take on Jerry Herman's "I Don't Want to Know." When she sang the line "My memories all are exciting," her body contracted grotesquely for a second or two. Was the spasm meant to suggest recalled throes of passion? Or was her character remembering a brutal punch to the gut? In any case, it was a surprising, effective acting choice.
The last part of the show allowed the star to relive her Main Stem glory days in two Broadway musicals, both with scores by Maury Yeston: Nine and Grand Hotel. (Montevecchi won a Tony Award for the former, in 1982.) With these songs and others, she had a strong collaborator in pianist Ian Herman, who played for her in an attentive, unobtrusive way.
Feinstein's/54 Below  –  February 11, 12, 13
Category: Reviews