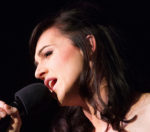 Before I get into my review of Tony-winner/rocker Lena Hall's new show, "Oh! You Pretty Things," at the Café Carlyle, I think I need to present a few personal bona fides. I saw the first New York performance of Janis Joplin (with Big Brother and the Holding Company) at Fillmore East and attended many Bruce Springsteen concerts over the years; I've been at CBGB to see The Clash and The Police and Living Colour. Shows by Led Zeppelin, The Who, and The Rolling Stones are sprinkled through my concert-going past. I write all this in order to underscore that is not the material of this show that makes me less than enthusiastic about it. In look, attitude and some of her material, the singer seems to want to bring a bit of "punk" to the stately Upper East Side. Well, not punk exactly—there is "rock" on display, but most of the time it seems to be rock for those who don't really listen to rock.
Hall was electrifying in her Broadway turn in Hedwig and the Angry Inch. She also fronts her own rock band, The Deafening. That band name is ironic considering that her three modes of singing in this show are somewhat soft, loud, and very loud. The decibel level, coupled with a microphone technique so bad that the mic is almost always at nose level, totally covering her mouth and lower face, often making the lyrics to even the familiar songs incomprehensible. Her theatre work in Hedwig and Kinky Boots makes it surprising that in both her patter and the songs, she brings so little color and variety to her storytelling. This is not helped by the fact that by opening night she had not bothered to memorize the show. When did it become acceptable to have a complete show with patter and lyrics in a loose-leaf binder, on a music stand center stage, to refer to constantly throughout the evening? This cabaret sin has been committed by many performers lately, but she was turning pages practically before one song ended to refresh herself for the next number or bit of dialogue.
The show is a catalog of her failed romances connected to songs that are actually associated with the men in her life or that reflect on the relationships. Not the sturdiest of frameworks, perhaps, but one that could work if one had any sense that she cared about even one or two of the men, but they become monotone and interchangeable except for her generic descriptions of them as "the punk rocker," "the Billy Joel fan," et al. There's little emotional investment on her part.
Peter Gabriel's "On the Air" and the Sex Pistols' "Holiday in the Sun" (John Beverly, Paul Cook, Steve Jones, John Lydon) set the tone for the evening with in-your-face, empty intensity masquerading as rock bravura. "I Want to Hold Your Hand" (Lennon & McCartney) is a nice change, but it is shortened to insignificance to make room for more dialogue. Steven Tyler's "Dream On" is done with enough reverb to create Grand Canyon-like echoes in the club, but this actually works because her vocal is so colorless without it.
For all of Hall's rock aspirations, the centerpiece of songs by Billy Joel and Elton John & Bernie Taupin offers the most musical pleasure of the evening. On Joel's "I Go to Extremes," she actually quiets down and gets into the story (for the first few verses anyway) and her singing is simple and compelling, but even here, by the end she is shrieking. Colin Doyle's "Gimme That Bone" is musically entertaining, but other than on the chorus, I honestly could not understand a word.
Early in the show, Hall recounts almost getting married, complete with buying a very expensive traditional wedding gown. She did not want the dress to go to waste so she decided to wear it to the opening night party for Hedwig and have everyone write or draw something on it to make it her own. Sure enough, late in the show the dress is brought onto the stage and she puts it on over what she's wearing. She then proceeds to do two David Bowie songs, but I found no connection between the awkward costume change (it was so ill-planned, audience members had to come up and help her) and this material.
The trio of Brian Fishler on drums, Justin Craig on guitar, and music director Watt White on bass played well and sang passably, but I do wish that White would have strayed a bit further away from the original recordings in his arrangements. Director Stephen Amato should take a stronger hand with the acting and singing and not leave her to flounder on stage quite so often. Lena Hall closes her show with "Creep" (Radiohead, Albert Hammond, Mike Hazlewood), giving her one last chance to be punkishly rude with the infamous "…so f**cking special" line, but I found another line in the song to be the most resonant of the whole show: At its end, she sings, over and over, "…I don't belong here. I don't belong here."
"Oh! You Pretty Things"
Café Carlyle – June 14 – 25
Category: Reviews