I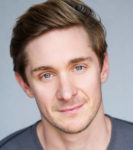 n his native Australia, Kurt Phelan is a theatre star; among his credits are the original Priscilla Queen of the Desert, Dirty Dancing, Singin' in the Rain, and various and sundry Disney princes through the years. With his good looks and strong voice, it is easy to believe that. He has also done cabaret "down under" to great acclaim, and he recently brought his show "Phelan Groovy" to New York City. Judging from this show, Australian cabaret loses a lot in translation. It was filled with smarmy sex talk, unfunny puns and jokes, awkward—and, at times, embarrassing—physical shtick, long meandering stretches of patter, and an assumption of audience taste, empathy, and knowledge that was at times breathtaking in its wrong-headedness. The word "shit" was used incessantly, as noun, adjective and verb. Phelan treated the microphone and stand as phallic substitutes, never missing an opportunity to fondle, fellate, stroke, or hump his way through a line of a song or some innuendo in his overwritten patter—the way bad drag queens used to try to be sexy/funny in the seventies.
After opening with an abbreviated "Feeling Good" (Anthony Newley, Leslie Bricusse)—done, of course, as "Phelan Good"—he quickly claimed that in his show, there was "a story for every song, and a song for every story." Unfortunately, it seemed like there was also a story in every song as he proceeded to interrupt his singing (which was often perfectly fine) with meaningless autobiographical tidbits or "knowing asides." I began to fear that we would go through the entire night and not hear one song sung from beginning to end. This tack failed again and again.
He did an "impression" of his mother singing "Dream a Little Dream of Me" (Fabian Andre, Wilbur Schwandt, Gus Kahn) that might have been charming had it not degenerated into tasteless miming of childbirth and breast feeding. He interrupted Cole Porter's "I've Got You Under My Skin" to tell us of his bouts with crabs and scabies, equating romance with STD's, and leading into a bit of "I Burn for You" (Sting), complete with the "pretend" application of ointments.
Singing Jason Robert Brown's "Someone to Fall Back On," he finally stopped trying so hard and it was so blessedly free of winks, nudges and naughty looks (albeit still a bit overwrought) that I took to it like a drowning man grasping a life preserver. He then did a moderately funny parody of Les Misérables (Claude-Michel Schönberg, Alain Boublil) singing about the terrible film version. As with most parodies like this, a little goes a long way; he just didn't know when to quit, going so far as to sing of Hugh Jackman, "And still I dreamed he'd come on me…" Later he literally repeated this moment, adding new words to "Let It Go" (Kristin Anderson-Lopez, Robert Lopez, from Frozen).
After an unnecessary and pointless costume change, he came back on stage in beach attire announcing his run for "President of the World"—trying, and failing, to be current for his American audience in this election year—and presented a medley built around "Royals" (Lorde, Joel Little) that revealed that he had not a clue about this country's politics. He then re-enacted a performance by, and meeting with, Australian theatrical legend Debra Byrne; I am familiar with her only by name, but even I was made uncomfortable by the mean-spirited lack of respect he displayed.
Then, out of the blue, he sat on a stool and did an extremely personal, emotional, and gentle version of Vanessa Carlton's "A Thousand Miles" that was both winning and infuriating because it underscored all the talent and personality that had been squandered or left unexplored in the preceding hour. If he chooses to return to our shores, I hope he first takes the time to see (and learn from) some good American cabaret and to find a director who can help him craft a more mature, witty, and exciting show than this one.
"Phelan Groovy"
Don't Tell Mama  –  June 16, 19
Category: Reviews