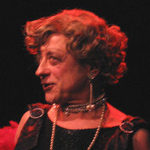 In Lavender Songs – A Queer Weimar Berlin Cabaret, actor/singer/writer Jeremy Lawrence, in the guise of his alter ego, "kabarettist extraordinaire" Tante Fritzy, manages to turn the tiny stage at Pangea into a veritable time machine, whisking the audience away to a beautifully realized evocation of a club in Germany in the thirties—a time when homosexuals were regularly arrest and jailed… or worse. Using his own translations of songs and poems that were written and/or performed by queer artists of the time, he gives us a picture of a man pushing the limits of the repressive society around him. He uses his drag, his songs, and his talent not only as a weapon to pierce the dark heart of hate and intolerance surrounding him, but also as armor to protect himself from it. The songs range from angry to poignant to funny to anthemic, but Lawrence never lets that very fragile mix of anger and fear in Tante Fritzy's heart stray too far away.
Clad in a shimmering, thigh length black dress and a red and lavender boa, and sporting a flaming red wig, Fritzy cuts a riveting figure on stage; he physicalizes the combination of world weariness and fierce defiance battling within her. The show is so smartly constructed and performed that it feels more like a one-act play filled with brilliant and connected monologues than a standard cabaret show. The interactions with both the audience and the pianist (music director Ariela Bohrod, whose fine playing gives each moment exactly what it needs without ever calling attention to itself) seem completely spontaneous, but at the same time remain totally in the through-line of the show, adding further illumination to the story being told. Even a brief bit of audience participation is in no way anachronistic. Actual figures and events from the time are also woven into the story, adding even more verisimilitude to the proceedings.
And then there are the songs! Without any of the remarkable trappings on display, just to sit for an hour and hear this material would be more than enough. They were written between 1920 and 1938. Lawrence's lyrics are contemporary in feel and message while remaining perfectly in tune with the time and circumstance of the originals. (Let me digress a moment here with a suggestion: This show should definitely have a program for the audience so that they can realize just what a remarkable accomplishment it is. If I had just attended the show without benefit of a press release, I would have had no idea that Lawrence had written the English translations.)
The show opens with "Can Love Really Be a Sin?" (lyric, Bruno Balz; music, Lothar Brühne) which is anthemic in message but not in delivery—it is sung with a bravado that does not entirely mask the pained and personal plea beneath. In the patter that follows "I Don't Know Who I Belong To" (Friedrich Hollaender) she says, rather off-handedly, "I belong to myself." That phrase returned to me again and again throughout the show. There is witty wordplay in "Masculinum/Femininum" (lyric, Marcellus Schiffer; music, Mischa Spoliansky). Spoliansky also provided the melody for the original lyrics of Kurt Schwabach for the show's title song (of sorts), "The Lavender Song," which expresses longing for the glamour and romance of lavender nights. And I was fascinated by Spoliansky's "Special Girlfriend" (lyric, Marcellus Schiffer), about the special bond between two drag queens finding respite from the unforgiving world.
At the end of the show, after she returns to the stage in (male) street garb to say goodnight with "Danke Schön es war Bezaubernd" (lyric, Raimund Dannberg; music, Ernst Sennhofer) she implores the audience to "be careful out there." I wasn't sure I was seeing Tante Fritzy talking to us in times past or Jeremy Lawrence talking to us today. The frisson of that moment caps the show perfectly. It is a chilling reminder that what we have just witnessed on the Pangea stage is not that far removed from our current state of affairs in 2017. It is also a thrilling reminder of the power and strength of cabaret at its best.
Pangea – January 20, February 4, March 11, April 8
Category: Reviews