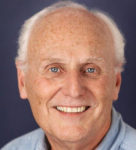 It's funny how over time, words can lose or change their meanings in popular culture. Before it became a kiss-of-death description, the word "nice" was a perfectly acceptable positive description of something that was neither remarkably good, nor terribly bad. In matters of performing and cabaret, it would indicate a pleasant diversion for an hour or so—not earth-shattering, but satisfying to a point. Bob Diamond's "The Gift Of Love," having a return engagement at Don't Tell Mama is a nice show—a mix of good moments, promising moments, and failed moments. His low-key concept is to visit some of the material from his first two shows from some 20 years ago, mixed with some new material illuminating his life since then.
In his opener, Rodgers and Hart's "Come and Tell Me," he displays a relaxed, winning charm. The backing, by Rick Jensen on piano and Tom Hubbard on bass is tasteful, as anyone who knows these two talented musicians would expect. Their playing is a consistent plus throughout the show. Also on the plus side, Diamond's simple, touching take on cabaret warhorse "Since You Stayed Here" (Peter Larson, Josh Rubins) rescues it from cliché. He puts a fresh twist on Harnick and Bock's "Tonight at Eight" by setting the song up as a maturing gay man going on his first male date after straight marriage and years in the closet. "Mary's Bar," given to him by cabaret icon John Wallowtich, is a Weill-like story of love found and love lost in a quintessential NYC gay bar; it is the strongest song and performance of the evening. Diamond's obvious affection for and connection to Jimmy Webb's "If These Walls Could Speak" makes it another highlight.
My reservations stem from both his performance and choices by director Gretchen Reinhagen. Too often the singer moves from one spot on the stage to another in the middle of a song for no apparent reason. Such distractions detract from our involvement in the songs. More problematic was deciding, or allowing, the singer to push too much in some songs and going for "big" moments, when a lighter attack would prove more successful. Unfortunately, such moments also exhibit pitch problems. "It Amazes Me" (Cy Coleman, Carolyn Leigh), a beautiful expression of the hushed disbelief at finding true love, breaks under the weight of Diamond's attack. There are instances when the connection of patter and song are stretched too thin. Setting up Hoagy Carmichael's "I Get Along Without You Very Well" as bittersweet nostalgia over friends who have passed denies the central romantic meaning of the song. A line like "I've forgotten you just like I should" gives lie to the set-up and hurts our enjoyment of the performance.
In spite of all this, Diamond's charm remains clear, and he goes some way to salvage the second half of the show with the closing numbers: a joyous recognition of his youthful outlook on life in "The Kid Inside" (Craig Carnelia) followed by an emotionally satisfying finale with Jensen's moving "In Passing Years." It is a lovely ending to a mixed show. With better pacing and more modulated singing that utilizes his obvious strength in phrasing and storytelling, the next show might be more than nice.
The Gift of Love
Don't Tell Mama – January 25, 31
Category: Reviews