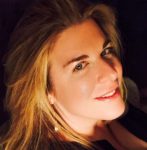 Feelin' Good, singer Lauren Frazza's remarkably assured cabaret debut at Pangea, is filled with great singing, striking arrangements, good humor and real emotion. Again and again, one forgets that this is her first venture into cabaret.
Under Geoff Stoner's clean, precise direction, Frazza delights the audience with tales of the dogs she has known. She shows a special connection with the four-legged kind and has a bracing disdain for the two-legged variety. Throughout the evening, using an inspired selection of songs by the likes of Nelly McKay and Susan Werner, she reveals her love of the rescued dogs that have been a part of her life. This occupation with things canine might have been strained or mawkish in other hands, but instead ends up setting her apart from other cabaret performers. A duet with her music director, Gregory Toroian, proves a particular doggy delight on '"You Make Me Feel Brand New'" (Thom Bell, Linda Creed), making the R&B classic both touching and side splitting.
Toroian's arrangements for this show are consistently impressive, and his piano is augmented by the beautiful playing of Skip Howard on bass and David Silliman on drums. Carole King's "You've Got a Friend'" has never sounded like it does in this show thanks to Toroian's invention and Frazza's brilliant phrasing. In a heart-stopping take on '"In the Wee Small Hours of the Morning'" (David Mann, Bob Hilliard), Frazza reveals the maturity and stillness of a seasoned cabaret artist. '"Bill'" (Jerome Kern, P.G. Wodehouse, Oscar Hammerstein II, from Showboat) is further evidence that she is as much at home with the Great American Songbook as she is with the more contemporary material, like Susan Werner's "Stay on Your Side of Town," which is yet another standout. She even manages somehow to breathe new life into '"The Glory of Love'" (Billy Hill).
There are a few missteps along the way. On '"Feeling Good'" (Anthony Newley, Leslie Bricusse), the trio swings like crazy, but the singer doesn't; the arrangement seems to leave her behind trying to catch up. '"Here You Come Again'" (Barry Mann, Cynthia Weil) tries too hard to be different and loses its way, while Robbie Dupree's '"Steal Away'" is disappointing because it is such an ordinary, unsurprising close to what is for the most part an extraordinary show. Catch Lauren Frazza when she next appears to see her at the beginning of what promises to be a stellar cabaret career.
Feelin' Good
Pangea – October 23, November 9, 14, 23
Category: Reviews