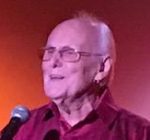 An admitted and proud octogenarian, Bob Diamond clearly revels in his longevity. In his latest show, The Game of Life (at Don't Tell Mama, directed by Gretchen Reinhagen), he proved it yet again. In a fetching cranberry-colored shirt by Betty of Burbank ("she makes all my shirts"), and strong and confident in both his singing and speaking voices, he told some of the story of his own life with relevant songs in a way way seemingly all of us in the audience could relate to. He had considerable help from Matthew Martin Ward, his musical director, pianist, and sometime vocalist, and Tom Hubbard on bass (Matt Scharfglass played the October dates).
As his through-line, Diamond employed The Game of Life, a real board game, invented in 1860 by Milton ("Monopoly") Bradley, himself, and modified considerably in the decades since. In the version he used, Diamond drew oversized cards that told the player mostly benign upcoming events in his life: "you will get a pet," "you will have a child," "you will get a job as an actor," "you will get a job as a singer." When he announced the game cards' promised yearly salaries for these last two predictions ($100,000 and $70,000, respectively) he got understandable guffaws from the showbiz-knowledgeable audience.
A rousing "Life Is Just a Bowl of Cherries" (Lew Brown, Ray Henderson) provided a natural theme song early in the proceedings, though Diamond modified the message by stating that life was "exciting, challenging, expensive, and all too quickly passing by." The range of his subsequent songs was remarkable. There was advice enhanced by his own experience in the form of "Experiment" (Cole Porter). His devastating delivery of "The Lady Down the Hall" (Annie Dinerman), about a neighbor's heartfelt concern about a troubled marriage (his own), teared me up. "Why Him?" (Burton Lane, Alan Jay Lerner, from Carmelina), about an unimpressive subsequent Diamond suitor, was laugh-out-loud funny—yet, movingly, Diamond recounted how he had been madly in love with this man and had left his wife for him, but now, "I truly cannot remember his name."
Happily, Diamond displayed a particular affinity for the compositions of John Wallowitch. He began the set with the composer's inviting "Come a Little Closer" and finished with a mashup of that song and his "Nothing Ends." In between came a delightful duet between Diamond and Ward alternating the roles of "Frog and Toad" and another mashup, of Wallowitch's "Summer" and "My Favorite Year" (Michele Brourman, Karen Gottlieb), a "spec" song, not used in the film of the same name.
"Larger Than Life" (Ahrens & Flaherty), a song from the theatrical musical My Favorite Year, movingly embellished Diamond's story of his own lonely childhood, in particular his seven-year-old 1940s self devouring five-cent Saturday matinees at the RKO, with two features, cartoons, a newsreel and previews of coming attractions.
The one outlier in the show's roster was "Guess Who I Saw Today" (Murray Grand, Elisse Boyd). Diamond didn't really set it up as pertaining to his own life, and the song's subject certainly wasn't a feature of the board game. His slightly sarcastic, accusatory tone foreshadowed the punchline—and since the song has been overexposed over the past several years, everyone knows the punchline anyway.
Still, all is forgiven, since the exquisite pairing of "Whistling Away the Dark" (Henry Mancini, Johnny Mercer) and "One More Walk Around the Garden" (Lane, Lerner), arranged by Rick Jensen, was worth the price of admission.
The Game of Life
Don't Tell Mama – October 22, 24, November 6, 10; added: January 19
Category: Reviews