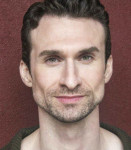 According to biographical notes provided to reviewers, Kristoffer Lowe is an award-winning classical singer and a musical-theatre actor who has previously worked largely in regional theatre, along with spending some time singing on a cruise ship. Perhaps in cabaret he has found an outlet in which his talents can flourish here in New York. Directed by Lennie Watts, his show, "Waiting for the Light to Shine," is an enormously exciting cabaret debut.
Throughout the hour, Lowe gives us a few hints about who he is. We learn that he grew up gay in Alabama with caring (if slightly Southern Gothic) parents. He claims to be more than a bit neurotic—something he explores in his opening number, Cole Porter's "Ridin' High," as well as later, in an amusing parody of Billy Joel's "She's Got a Way" (with comic lyrics that Lowe himself wrote).
When the lanky, smiling Lowe first appears onstage—a sparkle of mischief in his eyes—your first inkling may be that he is a smart hipster type who's going to snarkily deconstruct cabaret performance conventions. That impression quickly evaporates. Instead, Lowe takes a more self-deprecating comic approach. He has inserted into the jaunty "Ridin' High" a spoken inner monologue cataloguing his insecurities surrounding this thing called cabaret—he frets about making a fool of himself musically, about not having worn a tie, and about having hired a bass player (Matt Scharfglass) whose good looks eclipse his own. Immediately we're on Lowe's side. And, really, all those fears prove unfounded. The man knows his way around Cole Porter, he looks perfectly acceptable with the top button of his shirt unbuttoned, and he is no slouch in the looks department.
The voice itself is truly exceptional. Lowe's bright tenor tones are as sharp and bracing as those of a trumpet sounding on a crisp, cool morning—a natural for the show's more stirring numbers, such as the title song by Roger Miller. And Lowe deftly modulates the sound to accommodate tender, quiet ballads, including "Look Around" (Cy Coleman, Comden & Green), "But Beautiful" (James Van Heusen, Johnny Burke), and the lyrically rich "Unexpressed" (John Bucchino).
But Lowe has more going for him than a healthy larynx and a good set of lungs. He has a striking talent for acting through song. Whether this has been enriched through actor-training classes or just comes naturally, I have no clue. In either case, Lowe taps into the emotional content of songs and expresses the actions embedded in lyrics with apparent effortlessness. Many young singers (and some older ones) have difficulty achieving these things. When someone has such a skill at his fingertips and possesses a splendid singing voice, there's seemingly no stopping him.
The bio notes inform us that Lowe has an affinity for novelty songs from the 1920s. In this show he certainly displays a knack for performing songs in which playful comedy and whimsy figure, including Terry Gilkyson's "The Bare Necessities" and DeSylva, Brown & Henderson's "Never Swat a Fly." To be able to sing this kind of cute comic material and not sound cutesy is yet another admirable skill in Lowe's pocket. I would love to hear what he could do with a whole slate of songs with lyrics by E.Y. Harburg, especially the leprechaun's numbers from Finian's Rainbow.
Comedy of a broader sort pops up in Lowe's audience-pleasing "My Handy Man" (Andy Razaf), which has been termed by one writer the "quintessential bawdy blues" number. Lowe has great fun fitting the not-at-all-subtle sexual innuendo into a gay context.
Perhaps my favorite sequence in the show features an unlikely and slightly campy mash-up of Sondheim's "Move On" from 1984's Sunday in the Park with George and Steven Greenberg's "Funkytown"—a 1980 disco hit for Lipps Inc. (Is it just me, or is it wild that "Move On" was introduced four years after "Funkytown"?) Anyway, the amalgamation of the two songs proves strangely effective, but there's more to come—namely, a startling segue into an attractively syncopated arrangement of "Never Never Land" (Jule Styne, Comden & Green). This Peter Pan number provides all the preceding angst-filled questions about moving on or not moving on (to Funkytown or wherever) with an answer that may seem to be a non sequitur but isn't: Never, never grow old.
I'm not sure whether this odd yet engaging medley was devised by Lowe, by Watts, by musical director (and pianist) Carl Danielsen, or by some combination of the above. But it does seem that these collaborators (along with Scharfglass, who beautifully plays guitar as well as bass) may have been in especially good artistic harmony as they prepared this show. Danielsen, in particular, seems to be in complete sync with Lowe throughout the evening. Vigorously and joyously his hands pound the keys, as Lowe's voice soars above his notes. The singer's engagement with the players is yet one more factor that makes Lowe's show such an invigorating special event.
"Waiting for the Light to Shine"
Don't Tell Mama  –  June 20, 23, 30
Category: Reviews