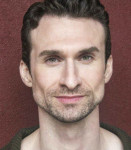 In his new show at the Metropolitan Room, Kristoffer Lowe presents a dazzling tribute to a relatively forgotten composer from the first half of the 20th century, Harry Warren. Because he was not the publicity hound that so many of his songwriting contemporaries were, Warren wasn't that much of a celebrity even in his lifetime (1893-1981), despite having won three Oscars, and it didn't help that he stopped writing altogether in the 1950s. But so many songs from his prodigious output have survived, and in some cases have gone on to new lives, that it must have been difficult for Lowe to winnow down the Warren oeuvre to an hour-long set. Yet he has chosen well, combining some of the very familiar songs with almost as many of the more obscure Warren selections into a show whose musical numbers are ready for the recording studio virtually as is.
Lowe's warm yet crystalline tenor voice and solid performing instincts are abetted by director Lennie Watts and a sterling backup trio consisting of music director Tracy Stark on the piano, Tom Hubbard on bass, and Jonathan Kantor on reeds. Nifty new arrangements by Stark combine with tasteful, welcome tempo changes and the interweaving of fun, upbeat numbers with jolly or wistful romantic ballads. Lowe even sings a blues number, "Me and the Blues" (lyrics by Ted Koehler), a Mildred Bailey signature song from 1946.
Lowe starts out with an engaging mashup of "There Will Never Be Another You," "If You Feel Like Singing, Sing" (both Mack Gordon), and "About a Quarter to Nine" (Al Dubin). Two other Dubin medleys, from Forty-Second Street and the Gold Diggers movies—"Lullaby of Broadway"/"Forty-Second Street" and "We're in the Money"/"With Plenty of Money and You"—add zest, as does Warren and Dubin's "I Only Have Eyes for You," from the1934 film Dames, but perhaps even better remembered from the Flamingos' 1959 hit doo-wop version. Mack Gordon wrote the words for "You'll Never Know," which Lowe here effectively turns from a wistful romantic lament into a sweet remembrance of his late grandmother.
"At Last" (Gordon), one of Warren's best-known love songs, provides Lowe a dramatic encore. Originally a big band hit in the 1940s and 50s (Glenn Miller, Ray Anthony), since its 1960 appropriation and reinvention by Etta James, the song has almost always been sung by women, most famously by Beyoncé Knowles and Céline Dion. Lowe makes "At Last" masculine and his. Equally welcome are "Shadow Waltz" (Dubin), the new-to-me "I Take to You" (Gordon) , and the really obscure "There Is No Music" (Ira Gershwin).
While I wouldn't change a thing about this show when it comes to the music, Lowe's patter could use some tweaking. He has clearly thoroughly researched Warren's life, and imparts much of interest, but perhaps some understandable opening night nerves or simply the show's newness kept him from delivering his chat as smoothly as he sang, and on occasion needing  to refer to notes. Even more important, but just as easily corrected before the next outing, was the lack of discussion of the lyricists, particularly Dubin and Gordon, and the process by which they and Warren worked together. Harry Warren didn't write any of those memorable words Lowe sings, and he wouldn't be remembered much at all without them.
"You're Getting to Be a Habit with Me: The Songs of Harry Warren"
Metropolitan Room  –  September 22, October 23, November 15, December 29
Category: Reviews