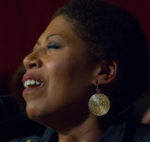 Joyce Lyons titled her welcome return to Don't Tell Mama The Music of the '60s…Jazz Style, but after delivering a fiery "Yesterdays" (Jerome Kern, Otto Harbach) she admitted that it was a lie. As she started to put the show together, she realized that little if any of the material was from that decade—but when songs are sung this well, the year of origin matters little. A regular on the New York cabaret scene in years past, Lyons abandoned us for the wilds of Minnesota where she has continued to sing, and to grow as an artist. Before she relocated, her repertoire was mainly traditional cabaret fare, but she has since moved more solidly into the jazz arena.
Her voice remains strong and expressive, but it is now tinged with a bit of impatience, of anger, even, that gave a welcome snap to the familiar songs in the show. There were shadings of Anita O'Day, Dinah Washington, and even more, Carmen McRae in her attack, but she remained her own singer. "I Thought About You" (Jimmy Van Heusen, Johnny Mercer) had a sexiness I could never have imagined, while "You Don't Know What Love Is" (Gene de Paul, Don Raye) was filled with a self-inflicted pain that made me rethink my own interpretation of this classic. During a lengthy instrumental break on this, the singer remained perfectly still, staring straight ahead, eyes ablaze with hurt and loss. I could not look away. When she returned to the vocal, she intensified the emotion even more, and it became a razor-edged cri de coeur. I don't think I have experienced a more riveting moment in a club this year.
She gave us an unexpectedly mature "Summertime" (George Gershwin, DuBose Heyward, Ira Gershwin) filled with cool rhythms and sultry vocals Her "Take Five" (Paul Desmond, Iola Brubeck) was a tour de force, both musically and lyrically; her cabaret roots showed in the clarity of the words and the spontaneity of their delivery. She included material by singers who had influenced her growth as a vocalist. From Nancy Wilson's Cannonball Adderley album came a welcome surprise, "The Old Country" (Adderley, Curtis Lewis), and she dug deep into Billie Holiday's "Don't Explain" (Holiday, Arthur Herzog Jr). She staked claim to a couple of Carmen McRae treasures, Jimmy Rowles's "The Ballad of Thelonious Monk" and Tommy Wolf's "I'm Always Drunk in San Francisco," whetting our appetites for a promised McRae tribute show on her next return to New York.
Lyons did manage to sprinkle in a few contemporary songs as well, including a haunting exploration of Sting's "Fragile" and a beautiful, dramatic re-setting of Paul Simon's "The Sounds of Silence." In this last number and throughout the evening, Phil Aaron (on piano), Gary Raynor (on bass), and Jay Epstein (on drums) provided the perfect musical background upon which the singer could work her magic.
One small "complaint": On the up-tempo numbers, the singer had a habit of clapping along to the music. This was distracting enough by itself, but it also served to inspire audience members who were considerably less rhythmically accomplished to join in. But other than that minor reservation, this was a glorious night of music and a highly entertaining return of one of New York cabaret's bright lights, which time had only made all the brighter. A warm welcome back to Joyce Lyons!
The Music of the '60s…Jazz Style
Don't Tell Mama – June 9
Category: Reviews