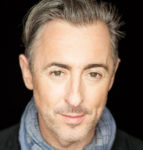 Alan Cumming is a Broadway star, a movie star, a television star, and an author, but seeing him at Joe's Pub in his new show, Legal Alien, it is apparent that the cabaret stage is where his myriad talents really shine. Immigration, strong women, and aging are the trio of themes revealed as the evening progresses. They are woven together in a smart, funny, dramatic, moving way that is breathtaking. The show opens with Walter Marks's "The Singer"—a song that was suggested to him by Liza Minnelli (a cheeky name drop, and the first of many in his hilariously star-studded patter)—leading into a trio of Sondheim ruminations on love and friendship: "Old Friend," "Losing My Mind," and "Not a Day Goes By." Even as the night was just beginning, I found myself wondering how exciting it would be to attend a concert version of Follies in which he would play Ben and Phyllis and Buddy and Sally.
A line from "The Singer" kept echoing in my mind as I gave myself over to the masterful performance: "Is he the singer or the song?" It could well be a mantra for the act. Each song is so well chosen, and Cumming is so invested in each, that they become extensions of his personality and his patter in a remarkably organic way. No matter the songwriter (and he generously acknowledges each), there is such a natural honesty and spontaneity to his phrasing and delivery that the words and the voice we hear are his.
He delights in unexpected "mash ups" of classic and contemporary material, but the ideas never become gimmicky or forced. "Just Give Me a Reason" (Pink, Jeff Bhasker, Nate Ruess) is right at home paired with the Dietrich classic "Falling in Love Again" (Friedrich Hollaender, Sammy Lerner). Under his wizardry, it seems perfectly natural for the lullaby beauty of "Hi Lili, Hi Lo" (Bronislaw Kaper, Helen Deutsch) to move into The Proclaimers' raucus romantic declaration "Then I Met You" (Craig Reid, Charlie Reid). Adele's "When We Were Young" (Adele, Tobias Jesso Jr.) is a revelation in Cumming's hands; going for broke, he lets it evolve into an anthemic statement of "Hymne à l'amour" (Margeurite Monnot, Édith Piaf, English lyric Geoffrey Parsons) that is positively electrifying. In his own words, a delightful trio of Disney princess songs is "the gayest moment of the night." There are some wonderfully lighthearted moments courtesy of British songwriters Victoria Wood and Dillie Keane.
His ode to his homeland, "Caledonia" (Dougie MacLean), which he dedicated to fellow Scotsman Sean Connery, glows with understated passion and longing; by its end, neither the singer nor the audience has a dry eye. In his take on music director-pianist Lance Horne's "Last Day on Earth," he gives some solace and inspiration after his not-always-optimistic observations on immigration and growing old. Throughout Legal Alien, Horne's arrangements are not only the perfect extension of Cumming's performance, but a wonderful showcase for an extraordinary trio of musicians: Eleanor Norton on cello, Riley Mulherkar on trumpet, and Chris Jego on drums and guitar.
Each time Cumming mentions a songwriter or singer or musician, he highlights his/her relationship to America as an immigrant or offspring of immigrants; this proves a revealing counterpoint to his own story of becoming a citizen ten years ago and a perfect way to underscore his anger at the current situation. His feelings, his wit, his politics, his vulnerability, and his sexuality are all on his sleeve throughout, whether he is singing or speaking. It is both heartwarming and heart stopping to witness. Legal Alien is the art of cabaret performance at its most entertaining and most profound; it should not be missed.
Legal Alien
Joe's Pub – Midnight shows June 19-23, 26-30
Category: Reviews