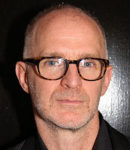 Probably no one but Jeff Macauley could have, or would have, fashioned such a narrowly focused cabaret show as his current offering at Pangea, Hollywood Party: Movie Songs 1928-1936. And he didn't just do this; the show is a reprise of a run from more than two decades ago, so we know that he's held a longtime interest in in films and songs of this period, and we wouldn't have it any other way.
Passionate about his chosen tribute subjects, which have included Norman Gimbel, Henry Mancini, and Dinah Shore, Macauley is always careful to provide plenty of narrative context in his presentations, and he never assumes that the audience knows as much about his theme as he does. Chances are we don't, especially this time. While some enduring standards emerged from this early period of motion picture talkies, and many quite famous composers did early work for the movies, a majority of the songs here are obscure, some nearly lost in the mists of time. (And many of the movies, themselves, have disintegrated.)
With his contagious enthusiasm for musical history, his vocal passion, and his expressive delivery of material both known and unknown to his audience, Macauley goes a long way toward expanding our knowledge and understanding of the songs of this period—and enlisting our affection for them.
As Macauley explains early on, the movie-going public of the time were as mad for all-singing as they were for all-talking features, starting with 1929's The Broadway Melody, the first musical to win the Best Picture Oscar. Thus the studios kept cranking out musicals, even past the public's enthusiasm for them, and sometimes on some pretty silly subjects. For every "The Way You Look Tonight" (Jerome Kern, Dorothy Fields, an Oscar-winner from Swing Time), there are at least two, more like three, songs like "Go Home and Tell Your Mother" and "I'm Doing That Thing" (both Jimmy McHugh and Fields, from Love in the Rough). (Despite the somewhat racy titles of the songs and the movie, a characteristic of many pre-Motion Picture Code films of the early 1930s, Love in the Rough was actually one of a spate of popular golfing movies.) Macauley performs these two McHugh-Fields songs as a medley, just as he combines "The Way You Look Tonight" and "Never Gonna Dance" (Kern, Fields).
In fact, of the two dozen songs in this set, only two are performed alone, in their entirety. One is "The Wedding of the Painted Doll" (Nacio Herb Brown, Arthur Freed, from 1929's The Broadway Melody). A less-likely choice for the solo treatment it gets is "Let's Make Love Like the Crocodiles" (Jay Gorney, E.Y. Harburg, from Moonlight and Pretzels). This latter song is representative of the period's predilection for animal songs, such as "Never Swat a Fly" (De Sylva, Brown and Henderson) and "(I'd Like to Be) A Bee in Your Boudoir" (Richard Whiting, George Marion), sung as yet another medley. This show is medley-mad from the get-go, presumably to squeeze in as many songs as possible. But this format does a disservice to well-known numbers such as The Continental (Con Conrad, Herb Magidson, from The Gay Divorcee), the first Best-Song Oscar winner. Surely this standard deserves the full treatment rather than being surrounded and swallowed up by "Music Makes Me" (Vincent Youmans, Gus Kahn, Edward Eliscu, from Flying Down to Rio).
Macauley pays deserved tribute to the team of Ralph Rainger and Leo Robin with nice demi-renditions of "Give Me Liberty or Give Me Love" (from Torch Singer) and "Here Lies Love" (from 1932's The Big Broadcast). Unfortunately, the two songs are interrupted by "Temptation" (Nacio Herb Brown, Arthur Freed). Fortunately, Rainger's lovely "I Wished on the Moon," from The Big Broadcast of 1936 (lyrics by Dorothy Parker) has to share airtime with only one other song, "How Am I to Know?" (Jack King, Parker, from Dynamite).
With just two people on stage—the other being the estimable Tex Arnold, Macauley's frequent musical director and pianist—the "Hollywood Party" premise, with imagined attendees who introduced the songs wearing their "best bib and tucker," works only part of the time. Perhaps some visual aids would have helped to fill the space here: projected still photographs of the movies and parties of the period in question, or even a couple of film clips.
He saves the best for last, his encore, which channels his inner Janet Gaynor—complete with zither—on a pairing of two songs from her film Sunnyside Up: "Turn On the Heat" and "I'm a Dreamer, Aren't We All?" (De Sylva, Brown & Henderson). Macauley does turn on the heat and he clearly is a dreamer—and by the end of his show, we all are, too.
Hollywood Party: Movie Songs 1928-1936
Pangea  –  October 30, November 30, December 15
Category: Reviews