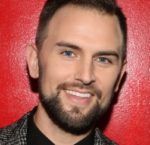 The theme of Summer Playlist—Daniel Reichard's recent show at the Birdland Theater—was the mix tape. In decades past, Reichard, like many young music lovers, would program these customized song collections on audiocassette recorders. Part of the point of mix tapes was that you could be as eclectic as you wanted, juxtaposing golden oldies with current hits, possibly slipping in a few novelty titles. The whimsy of such playlists, Reichard suggested, makes them perfect vehicles for celebrating the carefree party atmosphere of summertime. (This is apparently not, by the way, the first time he has mined this theme. In 2007 he performed a show at Joe's Pub called Summer Mix Tape.)
On the night I saw this show, the singer/actor—best known, perhaps, for his performance in the original Broadway company of Jersey Boys—arrived onstage dressed for the season, in a floral shirt and white shorts. And he was ready for fun. He opened with the ABBA hit "Waterloo" (Benny Andersson, Björn Ulvaeus, Stig Anderson). He danced about and gesticulated with enthusiasm. His follow-up number was another lively pop song, Paul and Linda McCartney's "Another Day." He bounced up and down as he sang this one. It was as if he couldn't keep still for a moment.
As the evening progressed, there were a few slight changes of pace, including a comparatively contemplative performance of "(Sittin' on) The Dock of the Bay" (Steve Cropper, Otis Redding). Nonetheless, for the first half of the show, Reichard and his musicians (led by musical director Jesse Vargas) pretty much offered a steady diet of rhythm-focused pop music: songs with steady beats that tended to limit personal interpretation. When he announced that it was time for a "tortured summer romance medley," I had high hopes that he would offer up something at least a little less chirpy. But the medley contained not classic torch songs, but, rather, another string of spirited pop selections, including the Rolling Stones hit "(I Can't Get No) Satisfaction" and the Madonna favorite "Borderline."
The first point at which I got a hint that Reichard could do something significant in the way of song interpretation came with his loopy take on "Ugly Bug Ball" (Richard M. and Robert B. Sherman), a ditty originally sung by Burl Ives in the 1963 Disney film Summer Magic. True, this was yet another up-tempo number, but Vargas and company gave it a bubble-gummy, Saturday-night-at-the malt-shop sound, and Reichard performed it with some campy choreography, inspired by insect behavior.
Soon after, cellist Elad Kabilio came to the stage as a special guest, and the tone of the show shifted significantly. With the help of Kabilio and the band, Reichard presented a rather dramatic medley of romantic Rodgers and Hammerstein songs: "Shall We Dance" (The King and I), "All at Once You Love Her" (Pipe Dream), and "Some Enchanted Evening" (South Pacific). As the show's finale neared, he included other ballads, including "Mystery of Love" (Sufjan Stevens), the romantic theme from the film Call Me by Your Name. To my ears, his best performance of the evening was a lush version of the Talking Heads song "Heaven" (David Byrne, Jerry Harrison), graced with a gorgeous arrangement.
When mix tapes were in their heyday, technology was such that you had to either plan your song order carefully in advance or just start recording songs and hoping that some coherence would magically materialize. On the other hand, when preparing a collection of songs to sing in a cabaret show, you can do some experimenting in rehearsal to fashion a sufficiently varied program. That becomes an easier prospect if you work with a strong director, someone who can not only help you choose and order songs, but also guide your movements onstage and help you hone your between-songs patter. I hope that next time out, Reichard will find a collaborator who will help him present a more thoughtful and satisfying program.
Summer Playlist
Birdland Theater  –  August 23-25
Category: Reviews