A lucky few who braved torrential rain got to hear The Royal Bopsters' second set on Wednesday, September 1. The Pangea stage was challenged to make room for four singers and their rhythm section: their close harmonies were echoed in the tight spacing. A legitimate heir to the vocalese tradition—especially Lambert, Hendricks & Ross—these four are also arrangers, composers, lyricists, and teachers, bringing an archive of jazz knowledge to the stage and an infectious excitement about what they do.
"Let's Fly" (David Ball, Annie Ross) was a gift to Bopster soprano Amy London from Annie Ross; London wrote the arrangement as well as the melody and lyric for the vocalese. It sang the praises of vacations to anywhere you can unplug: the sea, or perhaps the moon—and featured a short quote of Ross's famous "Twisted," made even more famous by Joni Mitchell's 1974 cover. "Infant Eyes" (Wayne Shorter, Doug Carn) was tenor Pete McGuinness's complex and well-realized arrangement, with traded-off lyrics between the singers, dovetailing into unison and then back into often dissonant harmony. Baritone Dylan Pramuk was the lead voice and arranger for "How I Love You (Let Me Count the Reasons)" (William Best, Ivory Watson), and the lyricist for the vocalese version of Dexter Gordon's tenor sax solo. "Bebop Lives (Boplicity)" (Miles Davis, Holli Ross, Ray Passman; arranged by Bill Mays, Dylan Pramuk), was introduced by alto Jeanne O'Connor. O'Connor is the successor to original Bopster Holli Ross, who passed in 2020 and was lovingly remembered with a photo on the piano and stories about her life and legacy.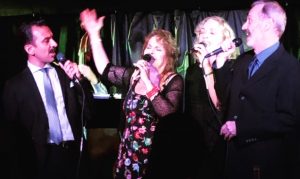 An ensemble who's been on sabbatical during the pandemic and lost a member too soon, may still be shaking the dust off, which made the show even more personal at certain moments. They set a high bar musically with two ambitious sets of difficult material, and they were more than up to the challenge. Their sound was consistently blended and polished, with kudos to Pangea's audio engineer, who must have sweated over getting that just right. The patter was chatty and enthusiastically detailed, lending an informal, living room feel to the evening—they occasionally snuck in a quick huddle about how a tune was going to start. This is tightly arranged music, even with its improvised scat solos, so these "work-in-progress" moments were reminders of the risk and excitement of jazz improvisation. Because vocalese is so often a response to classic bebop players—either mentioning them in the lyrics or singing transcribed solos—it seemed fitting to see the singers thinking and working in real time. They were ably supported throughout by Will Gorman on piano, Cameron Brown on bass, and Tony Tedesco on drums.
The last song of the evening, "Basheer, The Snake and The Mirror" (Gigi Gryce, Amy London, Darmon Meader, Dylan Pramuk, Holli Ross; arranged by Dylan Pramuk) was especially fun and well-rehearsed, with character parts for all four, some notable lightning-fast runs from Pete McGuinness, and a swinging Middle Eastern-inspired theme reminiscent of Dizzy Gillespie's "Night in Tunisia" or Duke Ellington's "Caravan."
If you want a deep dive into The Royal Bopsters' work, their most recent album, "Party of Four," is available on Montéma label, or grab your umbrella and some hip waders during a hurricane, and make sure you see them live—it's worth it.
***
Presented at Pangea as part of Ben Cassara's Cool Fall Nights Jazz Series on September 1, 2021.
Category: News / Reviews / Commentary, Reviews