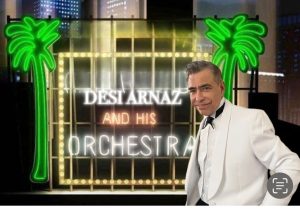 An older Desi Arnaz, played by Broadway actor Danny Bolero (In the Heights, and the currently-running Plaza Suite), enters the Brick Room at Don't Tell Mama reminiscing about the past complete with some ambient sounds that seem like memories he is reliving. Then, with some of Arnaz's recorded music in the background, the real band kicks in on "El Cubanchero" (Rafael Hernandez). It's a conga and horn-driven song many of us older people remember from hearing it on I Love Lucy, the groundbreaking sitcom that starred Desi Arnaz as Ricky Ricardo, and his real-life wife, Lucille Ball. The conga player, Caroline Moore, did an admirable job. She and Dennis Hernandez, on trumpet, did not get enough airtime in my opinion. 
The Desi Arnaz most of us know was a combination of hot temper, self-effacing humor, a 1000-megawatt smile, and sex-appeal. Danny Bolero's convincing characterization of Arnaz in They Call Me…Cuban Pete—The Music and Genius of Desi Arnaz. conceived and written by Bolero, captures all of those aspects of the man who changed the TV industry, with his wife Lucille, forevermore.
With raw emotion, Bolero (as Desi) takes us through his family's flight from Cuba after the Batista uprising of 1933, when they left a very opulent life behind. This heartbreaking story was coupled with "Mi Tierra" (Gloria Estefan). Bolero's voice breaks, and we can feel the pain return. But by 1939, the dynamic Desi was starring on Broadway in Rodgers and Hart's Too Many Girls and Danny sings from the show, "She Could Shake Her Maracas" (Richard Rodgers, Lorenz Hart). Bolero is playful and the performance here is fun—he employs subtle comedy chops. Upon meeting his future wife, Lucille Ball, Danny/Desi, sings a terrific mashup of "The Lady in Red" (Chris de Burgh) and "The Lady in Red" (Allie Wrubel, Mort Dixon). Bolero is a fine singer and actor, and he conjures quite a vision of Lucille with this medley and is completely convincing as the besotted Desi. This is my favorite moment of the show, musically. 
It actually took somewhere around 10 years for the couple to get I Love Lucy off the ground, despite the fact that Lucille Ball was very important to CBS. Desi was a Cuban with an accent. Regardless of his success he was an outsider and considered "lesser than." The negotiations between the studio exec and Desi are reenacted with a very comical back and forth between Bolero and an offstage voice (VO by Benjamin Perez) in which Desi puts him in his place. In this compressed negotiation, a confident Desi secures the show with a groundbreaking format, to be filmed in 35mm in Los Angeles. He and Lucy retain ownership of the show, and basically establish the precedents of residuals and syndication. The exchange is tight—the direction by Madeline McCray was well managed throughout. Bolero showed up for every emotion, every laugh, every double entendre.
Arnaz/Bolero tells a final story of meeting with Louis B. Mayer and enduring yet another condescending encounter, after which he sings the charming and heartbreaking "Cuban Cabby" (James Cavanaugh, John Redmond, Nat Simon).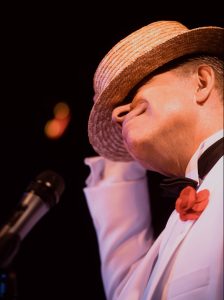 Bolero is a sexy dynamo and is totally convincing as Arnaz right down to the speaking voice. Honestly, at times I forgot it was not actually Desi Arnaz I was watching. The use of Ricky Ricardo-isms, when he would leave the "g" off the word "thing" and pronounce it "thin" and other instances (meet and greet becomes "mit and grit'') were wonderful memories and produced big laughs. Warning: Bolero/Arnaz lets quite a few F-bombs fly when recounting his negotiations in Hollywood. 
I have two criticisms of the show. There were times when I felt the band was not as precise as it should have been. Fast Latin rhythms require a tight unit. My takeaway is that musical director Drew Wutke was in over his head and didn't have his band under control at all times. He was not paying enough attention to the star of the show. The other is that although the show works in a cabaret room at a neat 60 minutes, I was very surprised when it ended. It seemed rather abrupt. I think adding 15 minutes could make big difference. Many of us know that Desi Arnaz's marriage to Lucile Ball ended in divorce. It seems right now as if they lived happily ever after. 
###
Presented at Don't Tell Mama on April 25, June 20, and July 11.
Category: News / Reviews / Commentary, Reviews