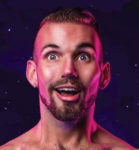 Chris Harder wears many hats, most of which he will happily remove with the rest of his clothes in his role as burlesque performer/producer and porn star. He is also a writer, and he has created a series of wild and wacky take-offs of The Hardy Boys at the Laurie Beechman Theatre called Nasty Drew and That Harder Boy. The most recent incarnation of that series, The Secret of the Prom Queen Curse was its funniest, tightest, most successful striptease-filled version yet. His growth as a writer becomes even more apparent in his new one-man show, #BIGBRIGHTSTAR, currently running at the Laurie Beechman.
The evening is a loose and lively journey through his life as a porn star, on- and off camera, in and out of clothes. He plays himself from child to adult as well as the variety of characters he meets on his journey to New York City and stardom, with clever assists from video clips projected overhead. The story begins with his childhood fascination with (worship of?) Barbie Dolls, in particular Movie Star Barbie, whom he presents as his guiding light and fairy doll mother, and whom he describes as the most important 10 inches in his life. His wide-eyed, innocent naughtiness in the boyhood scenes harkens most closely to that Harder boy, the high school detective; he subtly matures as his story progresses, and each incarnation has its own humorous rewards as he brings us to present day. There are dramatic rewards as well.
While his success at charting his progression from starry-eyed adolescent to sex idol might be expected, it is a  pleasant, exciting surprise when he inhabits the gallery of other people in his story, from a drill-sergeant-wannabe "trainer" for porn, a vapid director, a goth dancer cluelessly trying to stream an important statement with an involved striptease (the only full "number" in the show and quite successful as both a dance and a comment), a repressed minister demonizing the Care Bears as satanic emissaries (which leads to the funniest video joke of the night with Harder, as The No-F**k Care Bear who is "fresh out of f**ks") and a jaded porn idol dismissing a young and enthusiastic fan with dreams of his own. The funny, genius-on-a budget costume design is yet another hat that the star wears well.
Throughout the night Harder reveals "secrets" of the porn business. They range from the sexually explicit to elaborate and quite funny examples of the various media outlets and platforms that the modern porn star must master for sustained popularity and success. A recurring scene on a casting couch attempting to get cast in a movie moves from humorous to provocative to honestly dramatic. That progression is mirrored in one of the evening's most successful moments: a phone call from his mother about plans for a Thanksgiving visit. These two scenes contain genuine emotion and depth and the promise of more serious work in the future. There is real heart on display in addition to the satire.
Directed with economy and style by David Drake, #BIGBRIGHTSTAR offers a funny, fast-paced showcase for the likable, handsome, talented Mr. Harder. I can't wait to see what he comes up with next.
#BIGBRIGHTSTAR
Laurie Beechman Theatre – May 27, June 1, 8, 15
Category: Reviews