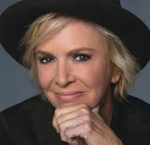 Sitting in the audience at the Metropolitan Room, viewing Katie McGrath's extraordinary new show, Significant Others, I was reminded of a friend's description of good musical theatre: the songs occur when mere speech is not enough to communicate the feelings and emotion of the character. McGrath presented herself as a smart, strong, witty, composed woman, letting us know about the life she has lived, and the life she is living, in quirky, at times comedic, at times moving patter that was altogether winning. When she sang, all of those traits remained, but there was an infusion of fragility and tenderness that transformed each of her well-chosen songs into a highly personal story.
Her respect for and attention to the lyric and her ability to capture the melody simply and surely without ostentation or artifice made it seem that the spirits of Mabel Mercer and Julie Wilson were watching over the room. A stripped down, almost tentative "Human Nature" (Steve Porcaro, John Bettis) served as a gentle introduction to the show; it was followed by a buoyant "If I Were a Bell" (Frank Loesser). The title of the show was meant broadly: it referred to people, places, or things that have had an impact on her. There were songs inspired by her mother, her husbands, lovers, friends, and places of refuge. Her brief reference to the hurt of her mother's (and eventually her own) "Irish alcoholism" put Irving Berlin's "Blue Skies" in an unusually sad setting, which her vocal illuminated.
Memories of her favorite babysitter playing her "forbidden" pop records grew into the funniest moment of the night, with McGrath and musical director-pianist Rick Jensen (whose work throughout was exceptional) singing and attempting to dance the back up parts for a couple of Motown classics. The flip side of that reminiscence was explored in Dar Williams's moving "The Babysitter's Here"—just one example of how well structured this show was. Kudos to director Lina Koutrakos.
Song after song was re-imagined in thrilling, heartbreaking, and moving ways. "Since I Lost My Baby" (Smokey Robinson, Warren Moore) became an elegy specifically for Ferguson, but really for all victims of senseless violence. Her patter informing us that she had a personal connection to this tragedy made the song even stronger. The country standard "Carlene" (Phil Vassar, Rory Michael Bourke, Charlie Black) was transformed through McGrath's witty re-write into "Eugene," a tale about discovering at a reunion that a former nerd is now anything but.
After giving the audience tips on planning a funeral (I mentioned that the patter was quirky!), she recalled a priest's telling her at her husband's funeral that Jesus loved him more than she ever did. Her anger and disbelief at his insensitivity found unexpectedly poignant release in Sting's "When We Dance." Before its appearance in this show, I would have said that I never had to hear "Up On the Roof" (Gerry Goffin, Carole King) again. Now that I've heard her ode to the sanctuary she discovered in the city to which she moved a year ago, I realize I would have been wrong.
In addition to the parody lyrics for "Carlene," she wrote the words (with music by Alex Rybeck) for a charming song called "Chet" about her current significant other. It recalls the best of Blossom Dearie and was entertaining proof that she should pursue songwriting as well. Katie McGrath has already pursued, captured, and pretty much perfected cabaret performance.
Significant Others
Metropolitan Room – June 3
Category: Reviews