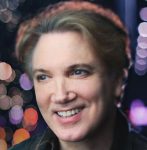 Charles Busch long ago conquered the stages of Off and Off-Off Broadway, often resplendent in gowns recalling the heyday of Hollywood leading ladies and delivering sparkling, campy, stinging, funny, dramatic words of his own devising. On occasion, over the years, he has explored the naked intimacy of the cabaret stage, frequently forgoing his womanly attire—although in his new show at Feinstein's/54 Below, Native New Yorker, he does wear a colorfully patterned suit that would fit nicely in Liberace's wardrobe and there is a bit of mascara and lipstick to be seen—and concentrating on communicating the words of others in song. With this show, Busch proves that he has conquered yet another stage in his now legendary career.
Early on he promises a "roller coaster of tone," and boy does he deliver, but it all coheres into a, by-turns, hilarious and moving personal statement. Pretty evenly divided between spoken reminiscences of his life in and out of the theatre and carefully chosen, beautifully arranged songs, the stories flow into song and the musical numbers illuminate the patter with remarkable ease and fluidity. His show and, obviously, his life are filled with wild and emotionally resonant tales. Most of the humor comes from his memories of childhood, family, and then theatre, as we get vignettes that can turn from hilarity to pain to anger to inspiration and back to laughter on a dime. There is a campy flourish here and an acid tongue there, a witty aside followed by a bitter barb, but all of the embellishments, both when speaking and singing, seem a part of who he is—and rather than adding artifice, they deepen, intensify, and personalize his performance.
He opens with "Pieces of Dreams" (Michel Legrand, Marilyn & Alan Bergman), which not only sets up the searching, autobiographical landscape of the evening, but allows us to witness the Bergman lyrics burst with passion and poetry in the hands of a consummate actor. Rupert Holmes's rarely done "Widescreen" is transformed into the best song that Andrew Lloyd Webber never wrote for Sunset Boulevard, as Busch fully embraces the clash of fantasy and reality with Norma Desmond-like intensity. This notion of Norma is so strong that it seems to hover over the rest of the evening in wonderful ways. As he explores the stories of his past and his youth "in the moment," Busch fills the songs with the warmth, regret, and inevitability of an older person looking back on that youth. The smart and passionate commitment to the storytelling invests Sondheim's "In Buddy's Eyes," "Touch Me in the Morning" (Michael Masser, Ron Miller), and "Whistling Away the Dark" (Henry Mancini, Johnny Mercer) with emotion and drama they rarely possess. It's a masterstroke to use Sondheim's "Pretty Women" to express his love and admiration for the film sirens that influenced him and gave him solace as he was growing up.
Busch's longtime music director, Tom Judson, provides invaluable support throughout the show as well as perfectly timed back-up vocals here and there. Charles Busch is not your ordinary cabaret performer, and Native New Yorker is not your ordinary cabaret show. It is a triumph in every way. And it left me with the dream of someone, somewhere, sometime mounting a production of Sunset Boulevard with him in the lead. Until that time, I will definitely be going back to see him on the cabaret stage.
Native New Yorker
Feinstein's/54 Below  –  February 6, 7,8, 27
Category: Reviews