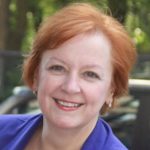 In More Than You Know, her Rosemary Clooney tribute show at 53 Above, Teresa Fischer tells us that she has long been drawn to Clooney's singing because of the warmth and clarity of her voice and her ability to make every lyric understandable. Happily, Fisher is able to replicate those positive qualities herself. It's not that she outright imitates her subject—rather, she honors the Clooney attributes with such loving care that she seems sometimes to embody her. There are points in the evening in which Fischer smiles a certain smile or tilts her head at a certain an angle, and you momentarily see Clooney standing there. In other Fischer shows I'd seen, I thought she had fine musical moments, but I had not been as impressed with her as I was at this performance.
Directed by Kent Cozad, the show focuses mostly on the latter part of Clooney's long career. After the rather goofy opener, "I'm the Big Bad Singer" (by Merv Griffin, who was a Clooney chum), Fischer describes, in short order, the early life and career of the star, up until the early 1960s—from her days as a child singer to the film White Christmas and her marriage to José Ferrer. She zips through a medley of novelty songs that became early Clooney hits: "Come On-a My House" (Ross Bagdasarian, William Saroyan), "Botch-a-Me" (Luigi Astore, Riccardo Morbelli, Eddie Stanley), and "Mambo Italiano" (Bob Merrill). Fischer calls them the "Name-that-accent trifecta." They were recorded at a time when Clooney had little control of her repertoire. (Clooney especially disliked the Bagdasarian/Saroyan ditty.) Fischer soon arrives at Clooney's emotional breakdown in the late 1960s. We learn of her subsequent recovery and of her newfound determination to take command of her career and to sing only material that she truly cared about.
Fischer performs "I Guess I'll Hang My Tears Out to Dry" (Sammy Cahn, Jule Styne) as a musical comment on the demise of Clooney's marriage to Ferrer. As she sings it, she maintains no eye contact with the audience, but rather stares into space, as though heartache had left her not merely bereft but vacant. This choice provides good contrast with Fischer's audience-friendly approach in her opening number, during which she all but gestures for her listeners to come up and join her on the stage.
Up to this point in the show that I attended, her vocals were fine, though there was perhaps some slight tentativeness, along with an occasional note that she most likely would have liked to have had another crack at. But as she began describing (and musically enacting) the Clooney comeback, her voice took on a lovely richness and assuredness. The last part of the program contains a trove of gorgeously performed songs. Among the highlights is a warmhearted "I'm Glad There Is You" (Paul Madeira, Jimmy Dorsey), in which notes from the appealing lower end of her vocal range are highlighted. She also includes plenty of playful swing numbers, including "They All Laughed" (George & Ira Gershwin) and "If Swing Goes, I Go Too" (Fred Astaire, Harry Warren).
There is plenty of emotion in the Clooney repertoire. But her singing style has been described with adjectives like "plaintive" and "spare." She was not especially noted for roller-coaster vocal flamboyance. Fischer performs largely in that vein. Her memorable turn on "Have I Stayed Too Long at the Fair?" (Billy Barnes) burns with a steady flame, but without the adamant theatricality that can be heard in the famous Streisand rendition. Equally nuanced and lovely is Fischer's take on Dave Frishberg and Louis Alter's nostalgic "Do You Miss New York?"
She is supported onstage by pianist and musical director Paul Chamlin, bassist Jon Roche, and percussionist Hiroyuki Matsuura. At times, Chamlin also acts as a comic foil for her. These interactions are amusing, but I'm glad such banter is relatively limited; any more of it would distract from the focus on Clooney. Chamlin has also written many of the show's appealing arrangements. (Others are by Andrew David Sotomayor, who was in attendance at the show I caught.)
This show is very much worth seeing—and hearing. It's a fine example of a singer finding a subject that fits her to a tee and then following through with a thoughtful and heartfelt execution.
More Than You Know
53 Above  –  November 10, 28, February 13, March 13
Category: Reviews