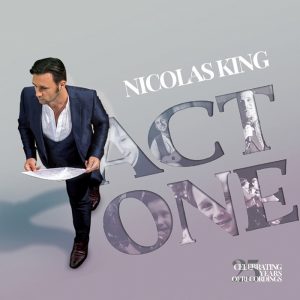 Listening to singer Nicolas King's new, fun-filled CD, Act One—Celebrating 25 Years of Recordings, reminded me of Easter mornings as a kid, when I was surprised over and over again discovering all the colorful, tasty little treats the Bunny had hidden among the nooks and crannies of my familiar home environment.  Though most of its songs are extremely well-known, King's tickling CD serves up a plethora of sure-to-delight surprises.  The first is that King is only 30 years old, yet his album's title is mathematically accurate and not misleading.  The disc includes a snippet of a live recording of the four-and-a-half-year-old King belting Irving Berlin's "There's No Business Like Show Business" in a performance at a resort in New Hampshire 25 years ago.  King appeared in three Broadway productions as a youngster, began a decade-long stint touring with Liza Minnelli at age 11, and has since worked steadily in cabaret, on television, and as a recording artist.  A precocious talent, King can indeed celebrate a quarter-century career, and his album comprises selected recordings representing that whole timespan.  
A gutsy artist, King opens the disc with a recording of Minnelli introducing him at a concert in West Palm Beach.  She calls him "the most talented kid in the world," and while her mega-energy and celebrity presence is a surefire way to grab the listener's attention, it also sets up high expectations that one suspects no singer can live up to.  Surprise – he does!  We first hear King in a previously unreleased recording, made when he was 11, singing a medley of "Life is Just a Bowl of Cherries" (Ray Henderson, Lew Brown) and "Nice 'n' Easy" (Lew Spence, Alan & Marilyn Bergman).  We are immediately struck by the brightness of his voice.  Yet while his sound could hold its own against a trumpet in a luminosity contest, King also displays an understanding beyond his years of how music – rhythms, dynamics, and toying with pitches — communicates feelings.  He finds great fun in these tunes and, regardless of how we might have heard them before, King's treatment brings nothing but smiles. 
The next track (also previously unreleased) has the 12-year-old King tackling the weighty, slow blues of "God Bless the Child" (Arthur Herzog, Jr., Billie Holiday).  He displays such ferocious vocal power and sophisticated command of the blues style that you forget you're listening to a youngster.  Then after wowing us with his advanced musicality, King delights us with a playful rendition of "Yes, Sir, That's My Baby" (Gus Kahn, Walter Donaldson) sung in duo with Tom Selleck—yes, not a name commonly encountered in cabaret conversations.  Captured during a live performance of the 2001 Broadway revival of the play, A Thousand Clowns, in which the 10-year-old King appeared with Selleck, the scratchy recording not only underlines the charming spontaneity of the singing, but appropriately recalls the sound of those old 78 records from the period when the song was written, in 1925.  
King is an expert jazz vocalist, as he goes on to demonstrate with a slinky interpretation of Berlin's "How Deep is the Ocean."  Yet King's strong suit is style.  No matter the song, he entertains us with richly-detailed, highly stylized interpretations that draw on the entire spectrum of approaches to jazz singing.  In a fabulous arrangement by Mike Renzi of "Can't Take My Eyes Off You" (Bob Crewe, Bob Gaudio) King starts by seasoning the pop hit with a tinge of jazzy free-ness.  As the number progresses, his vocals inch closer and closer to the jazz realm, reveling in imaginative play with consonants.  On the word "heaven," he elongates the "h" sound, and again sits on the "h" in both "have" and "hold."  Then he suddenly abandons those whispery tones and surprises us with a hard-hitting "g" on the word "god," hurling out that holy word with a deep-throated, irreverent disgust.  On the next track, King impressively negotiates a stylistic turn toward a sassy, down-home sound as he sings and speedily scats Tracy Stark's foot-stomping "The Only One."
Most of the tracks on the second half of the CD feature arrangements and piano accompaniment by Renzi.  Winner of a Lifetime Achievement Award from the Society for the Preservation of the Great American Songbook, Renzi has accompanied major stars, such as Lena Horne, Peggy Lee, and Tony Bennett, and here provides exquisite support for King.  In a pairing of "I'm So Glad We Had This Time Together" (Joe Hamilton; remember it as the theme from TV's "The Carol Burnett Show"?) and "My Shining Hour" (Harold Arlen, Johnny Mercer), Renzi shows what an exemplary accompanist he is, his playing adding its own lush, expressive beauty to the proceedings, decorating, without ever intruding on, what the singer is doing.
Just when I'm thinking I have King pegged as a jazz artist, he serves up a slick rendition of "Looks Like They're in Love" (Alex Rybeck, Bob Levy) for which he more than capably adopts a bouncy, Broadway-esque, storytelling style.  He follows that with a moving performance of "You Must Believe in Spring" (Michel Legrand, Alan & Marilyn Bergman, Jacques Demy), an inspiring ballad that I encourage everyone to take the time to hear again; its lyrics resonate loudly now, as we feel like we're approaching the beginning of the end of this scary, lonely Covid era.  And then comes the highpoint of the album, a Renzi arrangement of "But Beautiful" (Jimmy Van Heusen, Johnny Burke) that adds a quintet of strings (arranged by Renzi and Charles Calello) to its brilliant jazz trio accompaniment (Renzi, Alan Bernstein on bass, and John Anter on drums).  Yet that's not all.  Though King starts the singing, after a short while we are surprised by a gorgeous new vocal sound that gently sneaks in, mid-phrase, to join him.  It's the soaring soprano of golden-voiced Jane Monheit, and throughout the rest of the number she and King engage in an elegant relay, gracefully passing the lyric back and forth, singing alone, sometimes together, often overlapping; the vocal interplay is stellar.  
The CD's final tracks include a big band arrangement (by Calello) of the Sesame Street theme song "Sing" (Joe Raposo) in which the heavy orchestrations smartly enrich the song's simplicity; the tear-jerker "What Matters Most" (David Grusin, Alan & Marilyn Bergman); and "What a Wonderful World" (Bob Thiele, George David Weiss) for which King is joined by singer Norm Lewis, whose voice has too much vibrato for my taste—though I know I'm in the minority with that opinion.  The album's final track, "There's No Business Like Show Business," quickly segues from the opening bars delivered by King as a child, to a recent studio recording in which the adult King really swings it with his signature flair for jazz stylings.  
But no, that's not the end.  King follows that seemingly unbeatable performance with a bonus track, an absolutely electrifying Calello arrangement of "Come Back to Me" (written by Burton Lane and Alan Jay Lerner for the 1965 Broadway musical, On a Clear Day You Can See Forever).  Oh yes, don't worry, we'll definitely come back to you!  It seems that with this album, King has launched a relationship with Club44 Records which is planning to release an all-new King album within the next year.  We'll certainly be looking forward to that.    
Category: News / Reviews / Commentary