During lockdown and quarantine, many people spent an inordinate amount of time bingeing TV shows and movies, searching through Netflix, Amazon's Prime, and other streaming services, for the perfect film or series or genre to fill their days and occupy their minds.  Singer Melissa Errico immersed herself in the shadowy, mysterious, dangerously romantic world of film noir—a world filled with glamorous damsels in distress, downtrodden private detectives, a world of black and white and gray in which the steamy romance that filled its stories and images rarely ended happily.  If it didn't already exist, the torch song would have had to have been created as its soundtrack.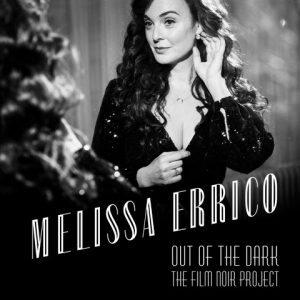 On her new CD, Out of the Dark: The Film Noir Project, Errico digs deep into that musical archive, recreating its foreboding romance, its hope and despair, its classic sound, and even stretches it out in a few surprising directions.  She also recreates herself as the romantic lead of these tales—one can picture the perfectly coiffed hair, the bright red lips, the gown, the (politically incorrect) cigarette in the bejeweled holder. The "soundtrack" for this endeavor features the exquisite pianist Tedd Firth, along with a host of fine musicians, immaculately produced by David Finck.  While the album is a bit overlong at 17 tracks, and a few of the more contemporary choices could have been excised to allow a bit more breathing room in the remaining standards, this is a deep dive into a classic genre that is well worth a listen. 
The verse of the opener, "Angel Eyes" (Matt Dennis, Earl Brent), is the perfect invitation to join the singer on this welcome escape from the restrictive, depressing world of masks, social distancing, and vaccinations.  The song is quintessentially noir, with its imagery of smoky bars, late night piano, and the dangerously wary protagonist.  I have always felt that this poor soul has a gun in her pocket as she walks out into the lonely night. A Broadway answer to Hollywood comes next, with a wonderfully moody take on "With Every Breath I Take" (Cy Coleman, David Zippel, from the stage musical City of Angels) with a beautifully mournful sax solo by David Mann.  While this song often falls victim to overwrought delivery, Errico's controlled yet passionate delivery is perfect, down to the dramatically held final note.  
The beat of the city infuses "It Was Written in the Stars" (Harold Arlen, Leo Robin, from the film Casbah), and the singer responds with a pulsing, world weary strength that matches the terrific arrangement with special mention to Lorin Cohen on bass and Bob Mann on guitar.  The Bad and the Beautiful is a movie that lives on the corner of Hollywood & Noir, and its memorable title theme by David Raksin and Dory Langdon Previn is brought to heartfelt life by Errico's impassioned delivery.  "Haunted Heart" (Arthur Schwartz, Howard Dietz) is another iconic song that fits perfectly into the web this album weaves.  Firth comes to the fore in an extended solo, beautifully echoing the urgent yet dreamy passion of the vocal.  The almost jaunty melody of "Amour, Amour" by Michel Legrand is a welcome addition but, especially when heard up against the beautifully crafted lyrics of the surrounding standards, the English translation by Jeremy Sams fall short.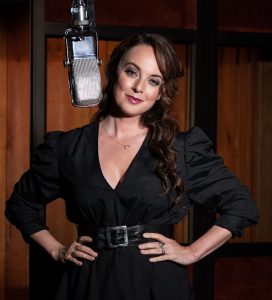 I am not sure whether Patricia Barber's "Silent Partner" was inspired by the great Canadian film noir of the same name starring Elliot Gould and Christopher Plummer, but it well could have been. Here, the more contemporary lyrics are right at home with the classic songs around it, and Errico gives a masterful performance. Adam Gopnik added dramatic lyrics to David Shire's theme for Farewell, My Lovely, and over Joe Locke's moody vibe work, the singer gets every drop of passion and pain from its tragic story of lost love.  She lays claim to another much recorded and performed noir standard with "Laura" (David Raksin, Johnny Mercer), embracing Mercer's timeless lyrics with heart and sophistication.  "Blame It on My Youth" (Oscar Levant, Edward Heyman) offers further proof of what a subtle, smart, masterful singer and actress she is—powerful but never overpowering.  
"Checkin' My Heart" (Harry Warren, Leo Robin) allows Errico to don the guise of a hard-boiled brassy broad, and the fun she is having is infectious and brings a pleasing lightheartedness to the proceedings. I doubt that anyone would ever classify A Star Is Born as a film noir so, at first glance, the inclusion of "The Man That Got Away" (Harold Arlen, Ira Gershwin) might seem odd, yet it fits beautifully; it is a tribute to her storytelling and commitment to lyric that she makes it her own with no ghost of Garland haunting it.  Even here, her remarkable control does not desert her.  Her take on the classic "Detour Ahead" (Herb Ellis, Johnny Frigo, Lou Carter) is just right; Scott Wendholt's trumpet and David Mann's sax add to its success.  The closer, "Again" (Lionel Newman, Dorcas Cochran), was originally sung by Ida Lupino in the movie Road House (1948) and then used instrumentally in Pick Up on South Street (1953), so its credentials for this CD are undeniable.  It proves to be the perfect "closing credits" theme for this memorable journey into the mood, magic, and mystery of film noir.
In recent years, Melissa Errico has given us wonderful tributes to Stephen Sondheim and Michel Legrand.  Out of the Dark: The Film Noir Project is a departure for her, and I, for one, love it!
***
Category: News / Reviews / Commentary, Reviews