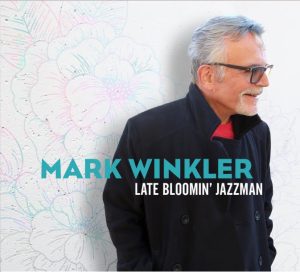 Singer Mark Winkler is the genuine article. To borrow a quote from a classic Blossom Dearie song, "If it were hip to be hep he'd be hep."  He is a laid back, swinging, hip jazz singer and, as his new CD Late Bloomin' Jazzman highlights, he is one hell of a lyricist. In fact, the recording is every bit as impressive for his songwriting as for his long evident jazz chops. He is surrounded by an impressive array of players, including pianist David Benoit, guitarist Grant Geissman,  Kevin Winard on percussion, Bob Sheppard on sax and flute, Brian Swartz on trumpet, to name just a few.  
The venerable warhorse from Porgy and Bess, "It Ain't Necessarily So" (George Gershwin, Ira Gershwin), gets a spritely, refurbished makeover to open the proceedings. His wailing at the end of the track offers a promise of the musical excitement to come. "Don't Be Blue" (John Guerin, Michael Franks) makes me wonder once again why Franks is not a go-to songsmith for discerning cabaret and jazz vocalists. "When All the Lights in the Sign Worked" (Joe Pasquale, Winkler) manages to blend a bouncy, irresistible rhythm with a film noir sheen creating an intriguing, mysterious mood that could have lasted at least twice its length if it were up to me.  The spoken word, beat tradition gets a revitalizing showcase on the title track (written with Eli Brueggmann) with a witty, insistent momentum and Winkler's perfectly syncopated narration. 
Cabaret great Michele Brourman both arranged and provided the melody to Winkler's lyrics for "In Another Way," a fresh and moving love song with the refrain, "The things we love the most we lose, but if we survive the pain, in the end love will come back in another way."  Rather than including a classic Brazilian song, the singer chose to write one of his own with Bill Cantos, who has often worked with Herb Alpert and Lani Hall. Their collaboration, "Bossa Nova Days," is a smooth, feathery call back to the classic sound and songs of the past, cannily including locales, artists, and references to other songs to share his love for the genre. He lets his rich voice float over the insinuating rhythms like a master.  Riding a terrific bass and horn arrangement he flies through an infectious "Old Devil Moon" (Burton Lane, Yip Harburg from Finian's Rainbow) but never loses the story as he goes on his merry way.  
"I've Always Had a Thing for You" (Lorraine Feather, Shelly Berg) is a real find.  A simple, conversational, gently romantic love song for the ages. The overwhelming loss, pain, and desperation of a lost love is captured beautifully in "Before You Leave" (Jon Mayer, Winkler) with Winkler's heartfelt vocal digging deep. 
It's always a treat to hear a song about a subject that hasn't been addressed in a particular way before, and "Old Enough" (Jamieson Trotter, Winkler) is just that.  It's a celebration of having matured enough to understand the meaning of the great songs he's been singing. It will generate a thoughtful smile and nod from anyone who has been in that situation. The two songwriters continue their exploration of out-of-the-ordinary subjects with "Marlena's Memories," a haunting portrait of the tragedy of Alzheimer's that gently touches the heart. Winkler's storytelling and acting are as impressive as his singing. The album closes with a stunning love song to, and contemplation of, one of the great composers, "If Gershwin Had Lived" (David Lucky, Winkler).  The blend of celebration and lament brought tears to my eyes. 
In his notes for the CD booklet, he quotes the lyrics of "Old Enough":
"Cuz I'm old enough to know what all the wise songs were saying…But I'm still young enough to know I don't know all that much, don't you know."
The wisdom revealed in that statement fills Late Bloomin' Jazzman making it a testament to the heart and soul and talent of Mark Winkler. 
***
Category: News / Reviews / Commentary, Reviews