"You Must Believe in Spring" (Michel Legrand, Jacques Demy, Marilyn and Alan Bergman), the title song of Josie Falbo's new CD, is going through a bit of renaissance at the moment.  It has appeared no less than three times on CDs I have reviewed in the last month.  But Falbo alone has the benefit of the cinematic rush and orchestral power of a 64-piece band.  The full, rich sound is extraordinary and Falbo's romantic vocals ride on its waves of beauty.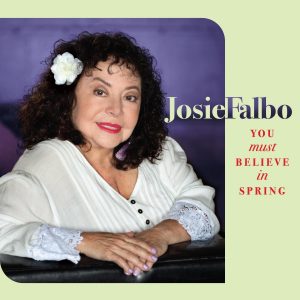 The orchestra fares well throughout the recording except in a few problematic swing and bebop numbers where it just can't compare to a full-fledged jazz ensemble.  "Joy Spring" (Clifford Brown, Jon Hendricks) loses some of the abandon with which it would normally be done and the arrangement is actually somewhat square.  Falbo's scat chorus is good but following "A Night in Tunisia" (Dizzy Gillespie, Frank Paparelli) and in anticipation of other jazz/scat songs in the collection, it all becomes a bit learned and repetitious.  The somber contemplation of "A Flower is a Lovesome Thing" (Billy Strayhorn) is beautiful although I wish she had made the phrasing a bit more personal.
She splits "A Sleeping Bee" (Harold Arlen, Truman Capote) into both legit and jazz tempos and both halves work beautifully.  Within the uptempo "Just You, Just Me" (Jesse Greer, Ray Klaghes), she relaxes and has a fun ride but, again, the scat needs a bit of variation.  I do miss Joel E. Siegel's lushly romantic English translation on "Estate" (Bruno Martino, Bruno Brighetti) but Falbo sings the original Italian lyric quite well.  I wish she had allowed herself to get lost in the dreaminess a bit more. "Devil May Care" (Bob Dorough, Terrell Kirk) has a few diction problems but is a fun inclusion. She does make "'Tis Autumn" (Henry Nemo) her own, floating on clouds of strings.  It would have been a great closer but it is followed by a misguided "Tristeza" (Haroldo Lobo, Nilton de Souza) that ends up sounding more phonetic than dramatic in its original Brazilian and the scat seems intrusive.
There are many good things on the CD but so much obvious time, expense, and passion has been put into the CD I wish more of it had worked, as much as I like the successes that are there. Josie Falbo has a lot to offer and maybe the balance will switch more to delight over disappointment in the next recording.
Category: News / Reviews / Commentary