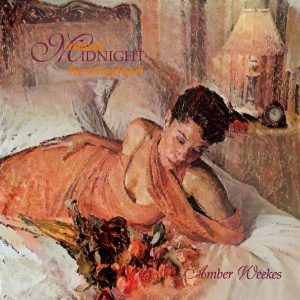 Singer Amber Weekes's newest release, 'Round Midnight — Re-Imagined, has a classic, lived-in feel that allows the listener to luxuriate in its style, its romance, its intelligence, and its sheer musical richness while enjoying the rich storytelling and the trove of surprises to be found in its tracks.  There is quite a lot of backstory and factual context in the liner notes that tie all the songs together, but I am tempted to suggest listening to the CD a couple of times to discover what the songs and her interpretations say to you before finding out what they mean to her and the story she wants to tell.  I always tell my students that there should always be truth in performance but there do not have to be facts.  Amber Weekes has enough truth in evidence here to fill at least a half-dozen albums!
In the opener, "Hazel's Hips" (Oscar Brown, Jr.), the singer uses a bump n' grind, bluesy saloon delivery with a knowing wink and nod at the naughtiness of the tale she's telling.  Then comes "Summer Samba" (aka "So Nice") (Marcos Valle, Paulo Sérgio Valle, Norman Gimbel) combining the feeling of a sensual, sultry summer breeze with a pulsing yet relaxed intensity. Here, and throughout the recording, the gorgeous strings are the work of producer, arranger, and conductor Mark Cargill, who also contributes terrific violin solos.  Weekes's savvy jazz sense and emotional story connection remain strong in a remarkable foray into "church," with a pairing of Duke Pearson's "Cristo Redentor" with "I Want Jesus to Walk with Me" (traditional spiritual) that impresses no matter what the listener's religious position.  The arrangement imbues a spiritual investigation of the lyrics with a cinematic lushness and smolder that transform the piece. 
Another inspired medley has Sting's "Sister Moon" moving beautifully into "Summertime" (George Gershwin, Ira Gershwin, Dubose & Dorothy Heyward) with stellar work by Sherman Ferguson on drums. "My Romance" (Richard Rodgers, Lorenz Hart) is a virtual duet between the singer and "Eddy" Olivieri's sensitive keyboard wafting to the heavens on clouds of strings.  On "Don't You Feel My Leg" (JM Williams, Danny Barker, Lou Barker) the naughty wit that peeked around the corners of "Hazel's Hips" bursts out in a sexy flirtation that doubles every entendre in sight. The legendary guitarist Phil Upchurch takes this, and every track on which he appears, up a notch.  
The centerpiece of the album is a grouping of three songs into what is called "The Bar Suite" that is practically a storyboard for an as-yet-unmade movie of romance and broken hearts. First is Billy Barnes's classic "Something Cool," which Weekes imbues with an endearing, bittersweet coquettishness that is a bit passed its sell-by date. The accompaniment is so evocative on this that I could practically see and smell the smoke hanging over the bar from the cigarettes that might be "fun with something cool." Next comes "One for My Baby" (Harold Arlen, Johnny Mercer) pulsing with gin-soaked regret and resignation. This leads to the smoldering longing of "The Man That Got Away" (Harold Arlen, Ira Gershwin) that burns with controlled intensity with flames provided by Louis Van Taylor's gorgeous soprano saxophone. 
"'Round Midnight" (Thelonius Monk, Cootie Williams, Bernie Hanighen) has a welcome and unexpected fragility that the arrangement and, in particular the strings, explore and reinforce. "More Than You Know" (Vincent Youmans, Billy Rose, Edward Eliscu) provides a moving finale that is just perfect.
Amber Weekes knows what she is doing—so much so that the listener can just sit back and relax and be transported to a faraway time and place.  It is a welcome escape that I will be visiting again and again. 
Category: News / Reviews / Commentary