It is always exciting to come across a new recording that is filled with surprising song choices from surprising sources delivered by a singer who covers them with a passion, intelligence and the personal phrasing of a singer-songwriter delivering his own material.  That is what I discovered in Why Go?, the new release by Allen Austin-Bishop who hails from Newark but is now based in London. He has a deep, rough-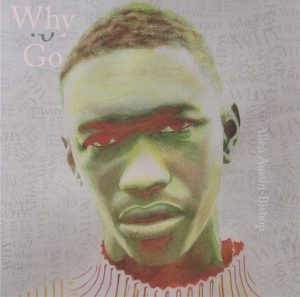 hewn, expressive voice with a Nat King Cole sheen burnished with echoes of Gil Scott-Heron for good measure. His interest is in good songs regardless of genre; he samples rock, pop, Broadway, folk, jazz, Hollywood, soul, and even a 19th century hymn with equally remarkable success. His musicians meet the challenges presented by such a variety of genres with comparable artistry and invention. Dorian Ford on piano and keyboards, Mao Yamada on bass, Rob Hervais-Adelman on drums and percussion, Katie Edwards on saxophone, and Fifi Homan on cello, prove a match for the vocalist and support his singular vision at every turn. 
The album opens with the Arctic Monkeys hit, "Do I Wanna Know" (Alex Turner), a smooth, low-key performance that shows that Austin-Bishop (like the great cover artists of the past) personalizes and elevates the song. Elbow's "Buffalo Ghosts" (Craig Potter, Mark Potter, Pete Turner, Guy Garvey, Richard Jupp) is even more gentle and its more poetic lyrics benefit from thoughtful, soothing vocals with haunting keyboard and saxophone providing a jazzy patina to the quiet intensity of his voice. The title song, written by Boy George, Estelle Swaray, Maxi Jazz, Rollo, and Sister Bliss and originally recorded by Faithless, has a film noir romanticism underscored by Hervaise-Adelman's insistent drums. "Came Here for Love" (Klingande, Bryn Christopher, Scott Wild) has an infectious, reggae-ish beat that adds a welcome bit more rhythm to the proceedings, followed by the even more upbeat feel of Pink's "You Get My Love" (Tobias Jesso Jr., Alecia Moore) which becomes a fun, pop throwback. 
Going back in time a bit, the singer offers his version of Whitney Houston's very first recording as a lead vocalist (in the group Material), "Memories" (Hugh Hopper), and his conversational delivery is unlike Ms. Houston's but suits the song well. His transition to Broadway with Fun Home's "Ring of Keys" (Jeanine Tesori, Lisa Kron) seems a natural progression with its toe-tapping, top-40 arrangement and his obvious delight with Kron's lyrics. Joni Mitchell's classic, "Both Sides Now," is given a distinctly new feel of acceptance and strength.
Billie Holiday's "Good Morning Heartache" (Irene Higginbotham, Ervin Drake, and Dan Fisher) affords the singer the opportunity to get as close to classic jazz crooning as he gets on the album, and it is impressive indeed. One of the biggest revelations of the project is the reworking of Sweeney Todd's rarely performed "Wait" (Stephen Sondheim). It's a risky choice that pays off wonderfully.  With a Latin flair provided by bass and drums, he combines romance and hope and dreams and replaces the eccentricity of the original with an innocent infatuation. His "Evergreen" (Barbra Streisand, Paul Williams, from A Star is Born) possesses a spine and a strength that sets it apart from previous recordings. That 19th century hymn (by way of MC Hammer, incidentally) "Pass Me Not" ("Pass Me Not, O Gentle Saviour"–William H. Doane, Fanny Crosby) is the penultimate number and simmers with subdued gospel intensity. The recording closes with "Laugh? I Thought I'd Die," a number by Tommy Wolf and Fran Landesman (about as far removed from the 19th century as one can get).   His smart, sophisticated phrasing blends with traditional jazz organ, insistent drums and swirling electronics that add an unexpected twist to the witty arrangement.
When I hear a singer as fine and as compelling as Allen Austin-Bishop, I like to go back over their catalog to hear more. Having done that, I can strongly suggest searching out Austin-Bishop's earlier recordings, especially for Sondheim completists because he has terrific takes on "Children Will Listen," "No One Is Alone," "Sorry Grateful," and "Send in the Clowns" amidst the other treasures to be found. 
One last mention about the packaging for the CD of Why Go? All that is included is the song titles—no musicians, no composers or lyricists, nothing. I know we are in a digital age where most music is downloaded in bits and pieces but if an actual disc is released, the booklet/insert needn't have liner notes but should, at the very least, include the credits. 
###
Category: News / Reviews / Commentary, Reviews