Song #1 in this new running series:
"Little Girl Blue" – Music by Richard Rodgers, lyrics by Lorenz Hart
When it comes to cabaret repertoire, I can think of few other songwriters who have created the sort of treasure trove that Rodgers and Hart have given us. The appeal of their catalog was (and is) vast. Creating attractive melody seemed to come effortlessly to Rodgers. Hart's best lyrics display sardonic wit, sly wordplay, and countless possibilities for artistic approach in performance. What's not to love (and want to sing)?
One of the duo's must enduring efforts is "Little Girl Blue," a ballad of yearning and melancholy written for the show Jumbo (1935).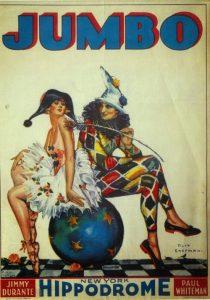 Jumbo appeared at NYC's Hippodrome: a gigantic indoor auditorium at Sixth Avenue between 43rd and 44th streets. Opened in 1905 and used for both outsized entertainments and sporting events, the venue boasted a playing area 10 times the size of most Broadway stages. The facility had been shuttered for several years, but producer Billy Rose decided to reopen it for Jumbo, a show that was part Broadway musical and part circus extravaganza, with acrobats and other specialty acts, along with the titular elephant and Jimmy Durante.
Ella Logan, who would later star in Finian's Rainbow, had been cast as Jumbo's female lead, but she was replaced before opening night by Gloria Grafton, described by Hart biographer Frederick Nolan as "a protegée of Cole Porter and Noël Coward." It was Grafton who introduced "LGB" to the world. The song didn't catch on immediately, however. Rose believed that radio exposure for show tunes competed with theatrical ticket sales, so he ordered an embargo on airplay of "LGB" and other Jumbo songs, including "The Most Beautiful Girl in the World" and "My Romance."
"LGB" shares thematic concerns with George and Ira Gershwin's "Someone to Watch Over Me." In both songs, the singer yearns for a love partner to bring an end to loneliness. But Rodgers and Hart are less hopeful than the Gershwins that such a hero will materialize. "No use, old girl," go the lyrics. "You may as well surrender…." A quirk of the song that may not be immediately apparent is that the verse takes a first-person point of view ("When I was very young…"), while the lyrics of the chorus have a second-person perspective ("Sit there and count your fingers…"). In other words, the singer goes from talking about herself to talking to herself. The verse—which contains circus imagery related to Jumbo—is frequently omitted or moved to the middle of the arrangement.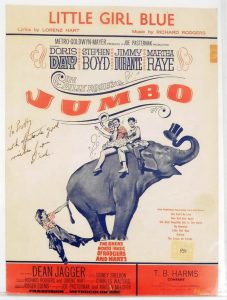 Jumbo in Hollywood
Doris Day performed "LGB" in Jumbo's 1962 film adaptation, Billy Rose's Jumbo, and it has been recorded by scores of other vocalists, including Ella Fitzgerald, Judy Garland, and Nina Simone (whose version incorporated a surprisingly effective countermelody: that of the Christmas carol "Good King Wenceslas").  Listen to Nina Simone. In 1969, Janis Joplin sang a raucous, soulful version, which took great liberties with Hart's lyric.  Hear Joplin's version. Among Bistro Award recipients who have recorded the song are Margaret Whiting, Polly Bergen, Ann Hampton Callaway, and Sue Raney. In decades past, few male vocalists tried it, perhaps because in doing so, the idea that the vocalist was singing about self went out the window, and the effect was instead that of a man singing to a woman. The result could be condescension or even derision toward the blue girl. Frank Sinatra's version, however, is lovely. His "No use, old girl" comes off not as taunting or dismissive but as deeply empathetic.  For Sinatra's version, click here.
Reinhagen Pays Tribute to Previous Versions
Gretchen Reinhagen recorded the song for her 2019 CD, Take It with Me, honored with both Bistro and MAC awards. Her version omits the verse. She starts with a rather traditional rendition of the chorus (opening bars that sound to my ears like a slow country swing), then cuts loose with an unmistakable homage to Joplin's cover. Reinhagen was introduced to the song through the Joplin version—which, she notes, was influenced by Simone's 1959 recording.
"In addition to showcasing Janis's version, I really wanted to introduce the song in its more traditional setting, as well as a style closer to where my own voice lives…," Reinhagen says. "The pairing gave me the freedom to make the song my own, and to honor Janis's cover without feeling like I needed to emulate her."  Hear Reinhagen sing "Little Girl Blue."
Reinhagen first performed "LGB" for a Joplin-related show that was part of a series produced by Lennie Watts in 2010. Music director Tracy Stark, director Barry Kleinbort, and bassist Tom Hubbard all made contributions to the arrangement eventually used on Take It with Me.
During that first performance, Stark played "piano only" to start, "and then the band came in on the Janis groove." In later live gigs, Hubbard played on upright bass early in the arrangement. On the recording, he plays the opening notes.
What advice does Reinhagen have for vocalists wanting to perform this number? She encourages singers to look for the stillness in the song, which can be "very grounding and also powerful."
"I was talking to Barry Kleinbort about Hart lyrics in general, and something we both agree on is that it's easy to allow the song to be indulgent and to wallow a bit, and that might be the biggest trap of the song. Avoid that trap. Instead of trying to play all the words, notice what isn't there. Hart always gives us so much more than what appears on the surface."
Correction: This article has been updated to reflect the correct NYC location of  the former Hippodrome Theatre.
Category: News / Reviews / Commentary