Repertoire for the Once and Future American Songbook
Song #3 in this running series.
Unlike the first two songs we've examined in Cabaret Setlist (Rodgers & Hart's "Little Girl Blue" and Stephen Sondheim's "Sand"), today's selection hails from the world of AM-radio pop. First heard in January 1967, "California Nights" anticipates the coming Summer of Love. It's not a song you'd have found on a Mabel Mercer or Julie Wilson setlist, but there is a place for it—and songs like it—in cabaret. When I wrote about Mischa Kischkum's rendition in my review of his 2018 Don't Tell Mama show, Mischa Kischkum Is OFF THE CHARTS (Songs You Don't Know by Writers You Love), directed by Jason Ellis, I referred to the song as "a bubblegummy trifle." Yet, thinking back on the show, this bouncy, swoony concoction is the number I recall most fondly. 
Sometimes a trifle, like a truffle, is just what hits the spot.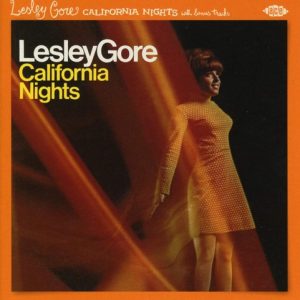 The song was introduced by Lesley Gore not long before her 21st birthday. It charted at #16 on the Billboard pop chart and was the singer's sixth and last top-20 hit in a string that began with her auspicious 1963 chart-topping debut, "It's My Party"—produced by a young Quincy Jones. (Gore was still in high school when "Party" hit #1, but at the time "California Nights" was released, she was juggling her music career with studies in literature at Sara Lawrence College.)
Gore, Marvin Hamlisch, and Howard Liebling had shared previous success with the bubbly "Sunshine, Lollipops and Roses" (1965). Gore had actually recorded that song even earlier, in 1963, with a different arrangement.
Well-known producer Bob Crewe brought "California Nights" to Gore, and lightning struck a second time. With these two compositions, Hamlisch took the first strides on what would be an Emmy-, Grammy-, Oscar-, Tony-, and Pulitzer-winning career trek. He also would become—for a time—the brother-in-law of Liebling. (The composer's sister, Terry Hamlisch, married the erstwhile lyricist.). Here's Gore's original version on Mercury Records.
Just as an appearance by Gore in a film called Ski Party had given a hand-up to "Sunshine, Lollipops and Rainbows," so another Gore excursion into filmed performance provided a boost to "California Nights." Gore wound up in episodes of TV's Batman, where her character, "Pink Pussycat"—an accessory to the slinky, nefarious Catwoman (Julie Newmar)—performed the number. (Just for fun, here's Lesley Gore with Julie Newmar in Batman.)
Had Hamlisch and Liebling been listening to West Coast pop sounds when they wrote "California Nights"? The song shares lyrical sentiments with John and Michelle Phillips' "California Dreamin'."  And my ears hear a melodic similarity to parts of Brian Wilson and Mike Love's "Good Vibrations." Both of these songs charted in 1966.
Biographer Trevor Tolliver describes the pleasures of the recording in his biography, You Don't Own Me: The Life and Times of Leslie Gore: "The verses pulse to a lonely bass guitar, a haunting and faraway clarinet, shy handclaps that keep a lazy tempo, all playing over the soft, misty sounds of waves caressing the shoreline…. [T]he chorus crescendos in a cymbal-crashing, violin-saturated frenzy of sun worship, undulating to another of Crewe's imaginative, inimitable drum lines." In the song's climax, Gore coos, "Baby, love you, Baby," sounding rather Diana Ross–like.
"California Nights" has had a scant recording history, post-Gore. Jazz guitarist Wes Montgomery delivered a laid-back instrumental rendition later in 1967 (listen to it here). And The Four King Cousins (a subsidiary of the King Sisters franchise) recorded a 1968 cover with some corny yet fetching harmonic effects (hear it for yourself). Other than that? Nada.
When planning his show, Kischkum (who served as his own musical director) originally considered "Sunshine, Lollipops and Rainbows." But then he discovered "California Nights" and its appealing multitracked vocals and harmonies. He figured he could duplicate that sound live with the trio of male vocalists he planned to feature onstage. Eventually, he came up with the idea of pairing the song with "Moon of Manakoora," a title by composer Alfred Newman and lyricist Frank Loesser written for the 1937 film Hurricane and sung by its star, Dorothy Lamour. (Listen to sexy Lamour sing "Moon of Manakoora" and be transported to the South Seas.)
What Kischkum and company soon nicknamed "The Beach Medley" came together with ease. "I knew [the songs] belonged together: they're both [about] lovers at night on the beach, from different generations—Loesser, then Hamlisch! I knew we had to begin with black-and-white Dorothy Lamour and segue to psychedelic Lesley Gore." The transition between songs seemed to write itself, with a common-tone key change that was lengthened in part to give time for musicians to switch instruments. Watch Kischkum perform his "Beach Medley" in his 2018 show.
In his memoir, The Way I Was, Hamlisch scarcely mentions "California Nights," and he admits that neither it nor "Sunshine, Lollipops and Rainbows" was exactly a masterpiece. Liebling's lyrics evoke beachy pleasures, but they're not especially clever or memorable. There is, however, dramatic movement in the song. The singer—at first resigned to parting from her beach beau— eventually decides to stay in California.
As for the music, Kischkum, appreciates the artfulness of the composer:
"Hamlisch pushes boundaries, and gives us a trippy musical ride,  by starting with a major-sounding verse. Feels like the key of D living in the expected dominant of a melodic minor key. But then we jump to his minor refrain—'Love California nights…'—and the actual key of the song, Gm. I learned while arranging the song that the intro from the recording is just the chords from the refrain, which Hamlisch probably found it necessary to include. Otherwise, the first verse would feel like home, when it's really a sweet sort of dissonance. He wisely makes the refrain the reward, the release of tension, and the return to home."
This may not be a song that could be restyled as, say, a languorous ballad. And Kischkum—whose show was nominated for a MAC award for "Best NYC Solo Debut (Male)"—notes the difficulties a performer faces in making a rendition of this song capture the spirit of Gore's original. He advises that a singer have at least one additional voice for harmony on the refrain, noting that "it's gonna be a hard sell using acoustic piano and voices alone." (By the way, Kischkum will soon begin providing content to patrons on Patreon.)
"If you're covering this song live, I think definitely use percussion or an electric bass, then electric or even acoustic keys," he adds. "Maybe the vocalist plays tambourine on the refrain—something to get close to that '60s sound."
Category: News / Reviews / Commentary