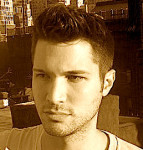 Brandon James Gwinn is a pianist at Marie's Crisis piano bar. He is a Dramatists Guild Fellow and a Richard Rodgers Award finalist. He has been artist-in-residence at Ars Nova. He is a popular music director in cabaret and theatre and a composer of numerous shows and songs. He has been performing a series of one-man shows at the Duplex, and based on his most-recent (sold-out) performance, "Brandon James Gwinn Did NOT Win the Pizza," he is also one hell of an entertainer. The other singer-pianist-songwriter who kept coming to mind as I sat thoroughly enjoying the show was Peter Allen. There isn't really a direct comparison in the material, but the mood, feel, and attitude of the show recall Allen's smart, antic, naughty, au courant, emotional, and razor-sharp style and spirit, especially from his early days at Reno Sweeney.
It is not a spoiler to mention that the title had nothing to do with the show and everything to do with Gwinn's constant bad luck at bingo on Fire Island—the top prize being fifty bucks and a pizza.
An evening like this lives or dies on the material, and Gwinn is the genuine article as a songwriter. In addition to showcasing his own work, he wisely interspersed some well-chosen covers, and he performed them so personally and so filtered through his on-stage persona that someone who didn't know better would assume he had created the entire repertoire. Opening with the overture from Chicago (Kander & Ebb) might seem odd, but it perfectly foreshadowed the theatricality, the fun, the drama, and the energy that was to follow—and it afforded him a great opportunity to show off pianistically, much to the delight of the audience. He had us before he'd sung a syllable.
When the syllables did start, they did not disappoint. His first vocal, "OK" (words and music by Gwinn), was a charming song celebrating life's small satisfactions ("I don't need a lot of money to smile…you make me feel okay"). In an about-face, next came Cole Porter's "Love for Sale," underplayed beautifully and a bit bouncily, with no attempt to place it in its original time period. It sounded contemporary in a way I had never heard before. He revealed at this point that the covers he would be including would be songs he wished he had written—and, indeed, the songs he picked had a melodic structure and lyrical style that were reflections of his originals.
"Hipster Boy" (Gwinn, Dan Marshall) was a kind of update of Bob Dorough and Dave Frishberg's "I'm Hip" in its self-deprecating skewering of contemporary pretentions.  He proved equally adept at finding good material by current writers, as evidenced by "Ugly Boy" (Fleming McWilliams, John Mark Painter), a very funny song about questionable romantic choices. With its darkly angry mood, the dramatic "You Tell Me You Love Me"(Gwinn, EllaRose Chary) showed that there is more to Gwinn than light and fun. But the fun reappeared in "Your Face" (Gwinn), one of the best moments of the night, which he included because there was one request for it. In the composer's world, this made the song "a hit."
Trading piano for guitar, he sent up political correctness with "The Least Offensive Song You Will Ever Hear"; not coincidentally, it was also the shortest song in the set. Covering "Young and Beautiful" (Lana Del Rey, Rich Nowels, from The Great Gatsby), he showed off his acting chops. Back at the keyboard, he wowed with a sensational "You Fascinate Me So" (Cy Coleman, Carolyn Leigh). It was not surprising when he followed it with the admission that he had first heard Bobby Short do the song and that Short had become his idol.
I was truly sorry to see the show end when he announced his final song, "Rain in Spain" (from his musical Matchmaker Matchmaker I'm Willing To Settle!) a bittersweet rumination on the unexpected end of a love affair; it left us all wanting more. And with an encore of Sondheim's "By the Sea," he gave us more. As I joined the crowd in tumultuous applause at the spectacular arrangement and vocal, I couldn't help thinking that Bobby Short might have done this song just this way—but I'm not sure even he could have done it better than Brandon James Gwinn.
"Brandon James Gwinn Did NOT Win the Pizza"
The Duplex  –  January 22, February 19, 29
Category: Reviews