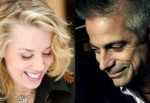 The rough-hewn, relaxed feel of Stage 3 at Rockwood Music Hall on the Lower East Side proved the ideal setting for singer Abigail Rockwell and guitarist Sean Harkness to debut their new pairing, "Rock & Hark." The show had a loosely structured, "what shall we do next?" feel that for the most part worked well. The two were obviously still exploring the already apparent chemistry that exists between them and it took them a while to get warmed up, but once they did there were many pleasures to be had.
They opened with Charlie Chaplin's "Smile," beautifully played by Harkness and sweetly sung by Rockwell, but spoiled by an inexplicable mash-up with the Doobie Brothers hit "Listen to the Music" (Tom Johnson).  Perhaps they felt the former song too gentle an opener but the medley got the evening off to a shaky start. The situation was not helped by the second number, "The Fate of Fireflies"—a song by the great songwriter Hugh Prestwood, given its debut performance. The song is not one of his best, and the performance, especially Harkness's vocals. was tentative. At some point I would love to hear them take on one of his great songs, like "Dorothy" or "Ghost in This House."
The show kicked into gear with "Libertango" (Astor Piazzolla). The insinuating, pulsing guitar blended beautifully with Rockwell's breathy, inviting delivery of her own lyric to this classic instrumental. Then came "Candy" (Alex Kramer, Mack David, Joan Whitney) which upped the sexiness quotient considerably with its low-key, R&B simmer. Unfortunately here, and elsewhere, the singer enjoyed herself a bit too much at the expense of the lyric and story. Too often she would smile inappropriately before the song had ended—as if so pleased that she had gotten to sing for us. She needs to stay connected and in the moment.
Rockwell introduced an original, "Voodoo Swing," by saying, "I don't do perky, but I do swing." She did, he did, and it was a highpoint of the show. Just when I thought I didn't ever have to hear Paul McCartney's "Blackbird" in a club again, they did a haunting, moody version that brought new meaning and color to the often overdone song. Harkness's vocals continued to get more relaxed and more solid as the night went on. He has an easy, effective falsetto, and especially in support of Rockwell's lead vocals, he impressed again and again. His playing was, as always, more than impressive. and he contributed an as-yet-untitled and wordless instrumental that was an infectious delight. Another of his melodies was given lyrics by Rockwell (her best writing of the evening), and the result, "No Goodbye, Only Love," was the other highlight of the show. It's the kind of song, and performance, that I wanted to take home on recording.
Throughout the show, I heard the echo of another singer in Rockwell's vocals, but I didn't identify it until the beautifully sung and played encore, Frank Loesser's "I've Never Been in Love Before." Her voice is a bit deeper and fuller, but her phrasing, her use of occasional melisma, and the breathy sexiness of her sound call to mind Morgana King. I mean this as high praise.
The sense of experimentation and discovery between the two was exciting to witness, and Rock & Hark's joy at performing together was palpable. In their best moments at Rockwood, that joy spread to the audience as well.
Rockwood Music Hall  –  February 17
Category: Reviews