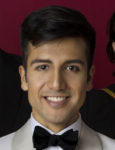 It's not every day that a cabaret performer hits on an audience at the top of his set. But on the night I attended, that's essentially what Rafa Reyes did in his Metropolitan Room show A Mexican Affair. "Would you like to have a Mexican affair?" he asked coyly. "Or would you like to have an affair with a Mexican?" And just in case we thought that might have been a careless ad lib, Reyes repeated the lines near the show's conclusion, adding that he and the band would be hanging around after the performance, just in case.
Throughout the show (directed by Jeremy Williams and produced by him for Convergences Theatre Collective), the Mexican-born singer reminded us of what a passionate fellow he is. He remarked at one point that he likes living in New York City because his brown skin and prominent nose are seen as attractive attributes by many locals. He admitted that he's found romantic disappointment in life, but added cheerfully that he's broken some hearts too.
Reyes carries the Don Juan routine into his songs, and that's where it becomes problematic. His singing voice has a dark, gritty, nasal quality, and his pitch does not always seem spot on. The voice might be fine for, say, an evening of sardonic political songs or a Tom Waits tribute show. But for the warm, romantic material he features in this program, one wants (and expects) pure, true, and somewhat honeyed tones. Reyes knows when to bring a song to a quiet, seductive whisper and when to turn up the volume to express grand passion. But the rough edges of his voice keep sneaking in, however soft or loud he's singing. He's at his musical best in a light, playful song called "Magic Is the Moonlight" (María Grever, Charles Pasquale), a selection that doesn't call for much heavy emoting.
The evening features mostly Spanish-language pop favorites sung in English, though occasionally Reyes will sing a verse (or sometimes just a few lines) in Spanish. He also includes one Broadway classic, Lerner and Loewe's "I Talk to the Trees," although he gives it a syncopated below-the-border treatment as well. The gist of much of his patter—when he's not just tossing out double entendres—is that the U.S. and Mexico have long had a rich cultural interchange, one that deserves to be rekindled, especially in light of recent political developments. "Why can't the U.S. fall in love with Mexico again?" he wonders. (He makes it clear that he's willing to do his part by fraternizing with the "American cuties.")
Backing Reyes is a talented five-piece combo led by musical director and vibraphonist Felipe Fournier. (For the Metropolitan Room shows, special guest performer Julie Acosta is featured on trumpet.) The players demonstrate robust musicianship, especially Fournier, who has a powerhouse solo on "Perfidia" (Alberto Dominguez, Milton Leeds). Occasionally, though, the musicians' gusto overpowers Reyes's vocals.
Toward the end of the show, starting with the inevitable "Bésame Mucho" (Consuelo Velázquez, Sunny Skylar), Reyes turns up the sexual heat yet another notch. The number is performed with come-hither looks and seductively cocked eyebrows. His hands run up and down his torso; he removes his tie and unbuttons his shirt. Later, on "Sway" (Luis Demetrio, Pablo Beltrán Ruiz, Norman Gimbel), he continues the strip tease, pulling the suspenders from his shoulders and letting them hang from his waist.
By this point in the performance I attended, the audience was a little giddy, in thrall to his campy-sexy antics. I decided to put the notepad aside and enjoy the silly fun. It dawned on me that Reyes is not so much a suave Latin crooner as he is an affable burlesque performer.
In fact, he's a bit reminiscent of Spanish entertainer Charo, who famously made "cuchi cuchi" a catchphrase on American TV programs in the 1970s (and who continues to perform today). Of course, when spitfire Charo quits shimmying and picks up a guitar, you quickly realize she's not just a sexpot but also a gifted and highly trained musician. While the same might not go for Reyes, I found a similarly loopy personal charm embedded in his gyro-technics.
Metropolitan Room  –  April 8, 20
Category: Reviews