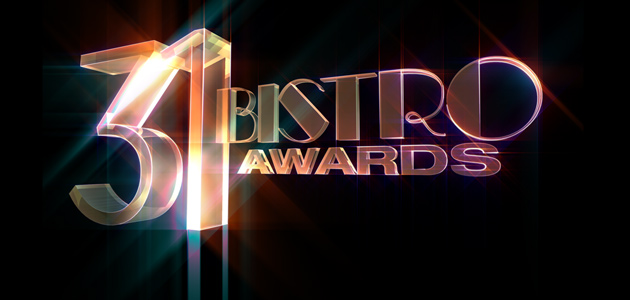 FOR IMMEDIATE RELEASE
Jazz Greats Jon Hendricks, Annie Ross, and Janis Siegel
are among the winners to be honored at the
31st ANNUAL BISTRO AWARDS GALA
Tuesday, March 8, 6:30 pm at Gotham Comedy Club
Favorites Christine Andreas, Sharon McNight, Jarrod Spector, Kelli Barrett, KT Sullivan, Jeff Harnar Also Recognized
(New York City, February 2, 2016) — Legendary jazz singer and lyricist Jon Hendricks, dubbed "The Poet Laureate of Jazz," celebrated jazz vocalist and actress Annie Ross, and acclaimed jazz singer Janis Siegel are among the artists who will be honored at the 31st Annual Bistro Awards gala on Tuesday, March 8 at 6:30 pm at the Gotham Comedy Club, 208 W. 23rd St. As is the Bistro Awards tradition, the evening will feature per-formances by the winners.
Mr. Hendricks is receiving the ASCAP Bob Harrington Lifetime Achievement Award. He co-founded the pio-neering vocal trio Lambert, Hendricks & Ross in the '50s. Together with Dave Lambert and Annie Ross, he mastered the art of vocalese — that of adding lyrics to instrumental compositions and instrumental solos, as well as complex vocal treatments for the Big Band arrangements of the likes of Duke Ellington and Count Basie. Their work influenced countless well-known singers, including Van Morrison, Al Jarreau, and Bobby McFerrin. As a solo vocalist, he has recorded several albums, made frequent television appearances, and toured extensively internationally, and he has served multiple times on the Kennedy Center Honors committee.
Being honored with a Bistro Award for her Outstanding Contributions to the World of Jazz, Ms. Ross was part of the famed Lambert, Hendricks & Ross trio for six years. After leaving the group, she ran a jazz club in Lon-don and has enjoyed a long career in film and theatre. She has been a celebrated solo jazz vocalist for many years.
Ms. Siegel has been a member of Manhattan Transfer since 1973 and is also an acclaimed solo jazz vocalist; she is being recognized for Sustained Excellence in Jazz Performance and Recording,
Four of the top cabaret greats are in the Bistro spotlight this year. Being honored with a Bistro Award for Ongo-ing Artistry in Cabaret and Concert Performance is Christine Andreas who has maintained an international ca-reer in theatre, television, concert halls, and clubs. Sharon McNight, the powerhouse cabaret and theatre star,.is being recognized for her Commanding Cabaret Artistry, while KT Sullivan and Jeff Harnar, along with director Sondra Lee, are being singled out for their extraordinary talents that were on view in "Another Hun-dred People," the Bistro Awards' pick for Outstanding Musical Revue.
Jarrod Spector, who received a 2014 Tony Award nomination for his portrayal of Barry Mann in the Carole King musical Beautiful, will share the Bistro honor for Major Engagement with his wife, Kelli Barrett, for their appearance at Feinstein's/54 Below.
This year's Ira Eaker Special Achievement Award — given to an outstanding performer on the rise and named after Back Stage's co-founder, co-publisher, and first nightclub critic — goes to Australian transplant, jazz pi-anist, arranger, music director, and composer Matt Baker, who has received increasing attention and acclaim since arriving here a few years ago.
Molly Pope, a strikingly original performer and personality, is being feted as Creative Cabaret Artist. In the En-tertainer category, Charlie Johnson is being recognized for his talents as a singer, storyteller, and showman. Aaron Morishita is being honored for his CD "Singing Sondheim," which makes even familiar Sondheim songs seem fresh and new.
A number of outstanding vocalists caught the Awards Committee's attention this year: In her entertaining show "Traveling Solo," Ann Dawson told of her career and life with pluck, humor, and musical savvy. Rob Sutton's offering, "Not the Boy Next Door," was deeply personal and charming, and filled with splendid singing. And Dawn Derow impressed with her glorious voice and character-rich interpretations in "Legit," her program of operatic arias.
The Bistro Awards honors Urban Stages' ambitious "Winter Rhythms" series, produced by Peter Napolitano as a benefit for Frances Hill's Urban Stages' Outreach Program, which for several years has presented a varied mix of shows from the worlds of cabaret, jazz, and theatre.
Hosting this year's 31st annual show is Jason Graae, whose varied career spans Broadway, Off Broadway, opera, television, and film. He is a four-time Bistro Award recipient for his various one-man shows which have toured all over the country and for his special musical material.
This will be the fourth year in a row that the Bistro Awards show will be under the directorial helm of Shellen Lubin. A director, songwriter, performer, and vocal and acting coach, she has been in the forefront of attaining parity for women in the arts.
The gala event will be held on Tuesday, March 8 at 6:30 pm at Gotham Comedy Club. 208 W. 23rd Street. Sherry Eaker, the former longtime Editor-in Chief of Back Stage and the producer of the event since its incep-tion, heads up the Awards Committee that includes BistroAwards.com critics Gerry Geddes, Roy Sander, Robert Windeler, and Mark Dundas Wood. Sander is also the award show's associate producer.
The Bistro Awards is sponsored by ASCAP. Premium Tickets are $120.00; General Admission tickets are $70.00. Ticket-buyers in both categories are invited to the "After-Bistros" party as guests of the Bistros. For details about the various ticket categories and early purchase prices, visit www.BistroAwards.com. For addi-tional information, call 917-239-5467.
Following is a complete list of the winners being recognized for their outstanding work:
Jon Hendricks / ASCAP Bob Harrington Lifetime Achievement Award
Annie Ross / Outstanding Contributions to the World of Jazz
Janis Siegel / Sustained Excellence in Jazz Performance and Recording
Christine Andreas / Ongoing Artistry in Cabaret and Concert Performance
Jarrod Spector, Kelli Barrett / Major Engagement
"Another Hundred People" (KT Sullivan, Jeff Harnar, Sondra Lee) / Musical Revue
Sharon McNight / Commanding Cabaret Artistry
Matt Baker / Ira Eaker Special Achievement Award
Molly Pope / Creative Cabaret Artist
Ann Dawson / Vocalist
Dawn Derow / Vocalist
Rob Sutton / Vocalist
Charlie Johnson / Entertainer
Aaron Morishita / Recording ("Singing Sondheim")
Urban Stages' "Winter Rhythms" (Frances Hill, Peter Napolitano) / Series
###
The BISTRO AWARDS has been recognizing, encouraging, nurturing, and educating cabaret, jazz and comedy artists for 31 years through its insightful reviews and annual awards. It is the oldest award of its kind in the industry. It was established by Bob Harrington in 1985 in his "Bistro Bits" column in the trade weekly Back Stage, then under the editorship of Sherry Eaker. For the first few years, the awards were merely listed in Harrington's column as notable performances he had seen during the calendar year. The first formal presentation of the awards was held in 1990 at Eighty Eight's, a popular cabaret venue in the West Village. From there, the show moved on to The Ballroom in Chelsea, and then relo-cated to the Supper Club in the Broadway District, where it remained for many years. This year marks the tenth year at Gotham Comedy Club.
The guidelines that Harrington set up for himself to determine the first winners have become the basic philosophy behind the Bistro Awards, which recognize achievement in a wide variety of categories — from outstanding performances to outstanding contributions by members of the cabaret community. The object is not to choose the "best" of anything of the year, but to recognize and congratulate the accomplishments of those who have done something special. Accordingly, categories can easily be created from year to year as they best fit the year's distinguished work.
Some of the Bistro's special honorees have included Ben Vereen (2014); Lainie Kazan and Maurice Hines (2013); Kaye Ballard, Melissa Manchester, and Dee Dee Bridgewater (2012); Dionne Warwick and Carol Channing (2011); Mitzi Gaynor and Elaine Stritch (2010); Charles Aznavour and Liza Minnelli (2009); Marilyn Maye (2008); Betty Buckley (2007); Steve Ross (2006); as well as Cleo Laine and John Dankworth, Bobby Short, Eartha Kitt, Barbara Cook, and many others.
Press contact: Sherry Eaker
sherry@bistroawards.com
917-239-5467
Category: Feature Images, News