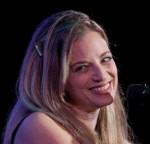 Lyricist Amanda Yesnowitz has been developing a name for herself in cabaret circles in New York City, with multiple nominations for various "Song of the Year" awards and, as she put it in her recent show at the Duplex, "Mercury Rising: The Sultry, Sassy Lyrics of Amanda Yesnowitz," she has also "won some sh*t as well." There seems to be an endless stream of songwriter tribute shows filling the clubs and cabarets lately. They usually focus on a composer, and more often than not contain material written for theatre, with lots of set-ups and character descriptions to place the songs in context. "Mercury Rising" offered a welcome reprieve from that, focusing instead on a lyricist working with a number of composers ("I write around," she confessed); these individual musical voices give us a variety of sound only wished for in many similar endeavors. Although Yesnowitz does sometimes work in theatre, the songs in this show are tried-and-true, free-standing pop/cabaret.
Yesnowitz sang her material with the sincerity, understanding, and understated humor of a writer presenting her own work. While she lacked the vocal prowess of a more seasoned performer, more often than not, this circumstance proved charming rather than irritating. The show opened with "The Only Place I Want to Be" (music by Doug Katsaros), a classic "gee I love being on a stage" song that should soon be popping up in other people's cabaret shows. It has a winning exuberance that never gets too big. This paved the way for what were basically three more opening numbers, "On the Stage" and "Gotta Start Small" (both with music by Deborah Abramson) and  "Don't Ask Me to Blend" (Peter Mills)—good songs all, but with similar messages. This is perhaps inevitable in a retrospective like this, but the repetition was alleviated by the introduction of Sarah Corey to sing them. She has a terrific legit voice and handled the storytelling quite well. Alas, she did, on occasion, get too big at climactic moments, pushing too hard in the style of so many theatre singers working in cabaret.
Yesnowitz returned with what may be her best-known song, "The Thing About Dylan" (Katsaros), a decidedly modern (and very funny) take on what would have in the past been referred to as a May-December romance, recounting her falling for a much younger man. Brendan McGrady (the actual "Dylan") then came to the stage to duet on "She Tells Me" (Katsaros), but the arch cuteness of the pairing could have been toned down by half. The song also showed up a weakness (the one weakness) in her writing: she displays a facility with rhyme that is indeed impressive, but that very facility leads to some overly predictable word play. Rather than surprise us with an unexpected word or turn of phrase, in this song and a few others, we could see the payoff coming a mile away. The great Steve Marzullo (currently musical directing Disaster on Broadway) contributed the gorgeous melody for "Too Close to the Sun," an Icarus-themed contemplation that contained Yesnowitz's best writing of the night.
The show ended (somewhat abruptly) with three holiday songs: "Twice as Much" (Abramson), a sweet tale about a child of a broken home at Christmas time; "My Life with Rachel Silverberg" (Brian Cimmet), meant, I suppose, to be a Chanukah song and a showcase for McGrady, but neither his performance nor the Allan Sherman-esque lyrics took flight; and "Don't Break My Heart on New Year's Eve" (again Cimmet, with a touching vocal by Yesnowitz), which just might join the pantheon of end-of-the-year standards.  But that was it—no finale, no wrap up, no trio for the vocalists. It struck me as odd and off-putting, which was too bad because I had enjoyed so many of the songs Yesnowitz had to offer.
Some final notes. The staging is credited to Joe Barros. I'm not sure what he did, but the whole evening seemed to be performed behind a forest of mic stands and music stands, making the normally attractive Duplex space seem crowded and cramped. I couldn't fully relax into any song because of all the furniture in the way. I realize that another given in this kind of show is that songs are read rather than memorized, but did every song have to be presented that way? Did no one have a chance to work on even one number? The singers stayed glued to their music stands and held on to their mic stands as if either they, or the stands, might fall over if the connection were severed. And the movements of the cast were awkward. This lack of care and thought in the presentation detracted from the success of the show in both overt and subliminal ways; this problem might have been easily remedied with a bit of (or a bit more) rehearsal, and more thought into what the audience would be seeing rather than just what they would be hearing.
"Mercury Rising: The Sultry, Sassy Lyrics of Amanda Yesnowitz"
The Duplex – December 30
Category: Reviews