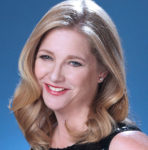 In her current Metropolitan Room show, New Scherl in Town (directed by Barry Kleinbort), Wendy Scherl reveals herself to be an assured (and reassuring) singer who envelops you in a protective bubble of good will. She opens with a song whose lyrics embody her optimistic bent: Irving Berlin's "I Got the Sun in the Morning." Scherl doesn't need to sell the song's upbeat message. She just gives it to you matter-of-factly, and you're sold. During the course of the song, your ears gradually become accustomed to the timbre of her voice—which has a distinctive humming quality and a sheathed athleticism that wows you when she turns up the volume. The effectiveness of her performance is enhanced by the snazzy, punchy arrangement provided by musical director and pianist Christopher Denny.
Scherl's follow-up song, a samba-inflected take on Jerome Kern and Johnny Mercer's "I'm Old Fashioned," highlights her skills as an interpreter of lyrics. She doesn't simply wax eloquent about "the old-fashioned ways"; rather, she seems to be sharing a confidence about an aspect of her personality—one that, perhaps, she has only just discovered.
As she admits in her opening address to the audience, the title New Scherl in Town is not entirely appropriate. She has actually been around the show-biz block before. She performed in musicals and on cabaret stages a couple of decades ago, but took a break to raise her family. She returned to the scene in 2015, and last summer she was first-runner-up in the Metropolitan Room's MetroStar Talent Challenge. What's "new" about this show, she says, is that she's working with a multi-piece band for the first time. (Along with Denny, she's supported—ably—by bassist Bob Renino and drummer Rex Benincasa.) Also, she's devoting more attention now than in past shows to selections from the Great American Songbook. (Amen to that.)
There are so many bright spots in this show that it's difficult to single out the top few. As far as ballads go, it's hard to beat her quiet, warm, graceful take on Bob Dylan's "Make You Feel My Love." But it's when she tackles an emotionally charged showstopper that Scherl is truly in her element. There are three such numbers in the show that deserve special praise.
The first is "Lovesick" (David Yazbek) from the 2010 musical Women on the Verge of a Nervous Breakdown. That show's score is chock full of nutty musical treats; it surprises me that cabaret singers turn to it so rarely. She has a ball with the jerkily rhythmic, lyrically tricky song.
Second, there's "Makin' Whoopee." I've always loved this Walter Donaldson and Gus Kahn number, which—like "Frankie and Johnny" and Stephen Schwartz's "Meadowlark"—is a story-song with lyrics that you need to tune into carefully to fully enjoy. A comic saga of a romance that begins with passion, lapses into confining domesticity and infidelity, and concludes with an uneasy truce, "Whoopee" takes a markedly cynical point view of the battle of the sexes. That cynicism, however, is offset by a contrastingly jaunty melody. Scherl sings it to a satisfyingly swinging arrangement—and makes every word count. Never before have I been so attuned to the number's lyrical content. It's a marvelous turn.
Finally, there's Jerry Herman's "Wherever He Ain't," from Mack and Mabel. There's a sort of coiled energy in Scherl's voice on this wonderful put-down song, in which a disappointing lover is summarily eviscerated. The arrangement here is slowed-down and sexy—as if for a song Mae West might have sung in a Gay Nineties saloon sequence in one of her early films. Scherl's energy uncoils in some beautifully belted notes, prolonged with Streisand-like brio. At a climactic point in the song, she leans out toward her listeners, as if to gather them all into her camp, and sings: "If he's in heaven, I'll go to hell!" It's a grand declaration of independence, and the audience laps it up.
I wish there were more such moments of physicality in the show. She does so much vocally to express feelings that it seems greedy to want more, but sometimes I wished that she would move her arms and torso a bit more, or that she would occasionally move about the stage in a release of energy.
My only other quibble: During certain quieter and slower musical moments, particularly in a pairing of "The Way We Were" (Marvin Hamlisch, Marilyn and Alan Bergman) with "Niagara" (Hamlisch, Carole Bayer Sager, Bruce Roberts), the aforementioned humming quality in Scherl's voice—usually appealing—veers dangerously close to a droning sound. Elsewhere in the show, her careful phrasing and focus on the actions behind the lyrics help her transcend this difficulty, but it persists in the Hamlisch melodies. Might a quickened tempo or a shift in keys provide a remedy?
Nit-picking aside, though, this is a very special show from a gifted singer and a savvy performer. I look forward to hearing much more from the talented Scherl.
New Scherl in Town
Metropolitan Room  –  April 28, May 11, 23, June 15
Category: Reviews