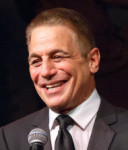 His terrific current show at Café Carlyle, "Standards and Stories," finds Tony Danza in a state of what I can only describe as grounded exuberance. This seeming oxymoron combines the wisdom and taste of an impossibly lithe man on the cusp of Medicare Advantage who maintains his apparently lifelong childlike enthusiasm for just about everything. This one-time boxer and native of East New York, Brooklyn, loves being back in New York after decades of television stardom in Los Angeles, loves being single "at this stage of my life," loves being at the Carlyle ("the greatest place in the greatest city"), and loves having starred on Broadway for the first time last season. Most of all, he loves his audience and treats us like grownups who possess a similar sense of joy. He sings in a singular, slightly gravelly voice, interjecting his narrative stories sparingly, unerringly picking up a punchline from a setup threading back several numbers. He sings four songs before he says a word, even "Hello."
His opening song, a relatively obscure Bobby Darin number, "As Long as I'm Singing," only begins to describe the reasons for his intense commitment to his chosen playlist. Another, even lesser-known song, "I Don't Remember Ever Growing Up" (Artie Butler), partly explains Danza's almost-permanent, infectious smile. It's not that he doesn't sing ballads; he does alternate upbeat numbers with love songs, and very well, but don't expect anything approaching the blues to creep into his set, most of the rest of which is made up of familiar songs. But, instead of echoing others' interpretations of them, he makes the songs his own. For instance, "If They Could See Me Now" (Cy Coleman, Dorothy Fields, from Sweet Charity) is a song I've only ever heard sung by women, but with only a couple of lyric changes it becomes a Danza anthem. In his heartfelt delivery, "That's All" (Bob Haymes, Alan Brandt) icould have been written for him.
He tells us of two musical mentors: one of them, Frank Sinatra, only by osmosis; the other, lyricist Sammy Cahn, in person and thanks to a long, close friendship during Danza's early decades in L.A. He pays tribute to both of them, with three songs each. Sinatra's influence was at least once removed because Danza's mother was an original "bobbysoxer," among the hordes of girls who stormed the Paramount Theatre during Frankie's first heyday, in the 1940s. In her eyes, Sinatra never did anything wrong. As Danza recounts, she told him, "When you introduce me to Frank Sinatra, then you'll be a star!" As recalled in one of those delayed punchlines, he did. Danza's versions of "How Little We Know" (Philip Springer, Carolyn Leigh), "It Was a Very Good Year" (Ervin Drake), and "The Second Time Around" (Cahn & Van Heusen) are somewhat Sinatraesque, but Danza sill makes them his own. The other two Cahn songs are "Please Be Kind" (Saul Chaplin) and "Until the Real Thing Comes Along" (Chaplin, L.E. Freeman), and they work equally well.
From his recent Broadway outing, Honeymoon in Vegas, Danza sings three numbers (music and lyrics by Jason Robert Brown). One of them, "I Love Betsy," he didn't sing in the show, but "always wanted to do." And why not? It's a lovely traditional tribute to a show's leading lady, the one Danza's gangster character wants but who is already spoken for. He reprises two songs that he did sing in Honeymoon in Vegas. The first, "Out of the Sun," is a comic recollection of the death of his wife from unprotected overexposure sitting all day by a swimming pool. (You had to have been there—to that show or to this one.) Best of all, Danza redelivers "You Made the Wait Worthwhile," a lilting Hawaiian number, accompanying himself on the ukulele. (He also does, but doesn't overdo, creditable tap dancing during this show, as he did on Broadway.)
The seasoned musicians backing him up are John Oddo on piano, John Arbo playing a 200-year-old double bass, Ed Caccavale on drums, and Dave Shoup on guitar.
Billy Wilder once told Danza to "take the stage eagerly, and leave reluctantly." He certainly does the former, and if he does the latter, it's with uncommon grace. We're the ones who would want even more.
"Tony Danza: Standards and Stories"
Café Carlyle  –  June 16-27
Category: Reviews