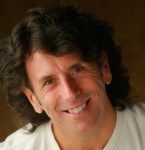 Tim Di Pasqua, a veteran singer/songwriter in New York's cabaret scene for over two decades (by way of his origins in San Francisco), took to the small stage in Don't Tell Mama's brick room to deliver a show consisting solely of his own compositions. Remarkably, he informed us that it was the first time he had presented his songs with a full band. The show was an ongoing attempt to present his full catalogue of songs.
Although his song titles are often rather nondescript ("Life Story," "So Good," "Here Today," and "Nothing," for example), don't be fooled. The lyrics are like heartfelt monologues set to the backdrop of sweeping, emotionally satisfying melodies. In many cases with singer/songwriters, the voice takes a back seat to the writing. Not so with Di Pasqua, whose smooth, tender tenor is a joy to behold, caressing his words with care and clarity.
His opening salvo was the midtempo, pulsing "Everybody Has a Purpose," which amounts to a questioning of his own artistry, success, and the listeners' response to his work: "I'm so frightened going forward or backward /Or worse yet staying just the same /I'm not sure that I've decided it's safer /When people recognize your name… Now I'm standing in the spotlight /Lend me your ears." What more can an artist ask? The audience responded in kind, lending their ears and their tears to Di Pasqua's unfolding musical canvas.
He offered such a treasure-chest of treats that it's hard to pick favorites, but the ones that stood out for me were "So Good," about the longing for someone unattainable that has a surprise emotional twist in the closing lyric; the devastating "When He Walks Through the Door," a brilliantly realized portrait of a long-married woman who harbors regrets about her choice to marry; and the folk hymnal "The Possibility." On this last song, as on a few others, he shares vocal harmonies with Michael Holland, a sound so exquisite it's as if they'd come out of the womb together.
The selections were new as well as old; it is obvious that Di Pasqua's creative well has not run dry. He took us all the way back to the first song he demoed in San Francisco, in 1987, "When We're Not Together." While not as poetically sophisticated as his later lyrics, it remains a well-crafted pop song that has stood the test of time. "Here Today," written in 2012 for the 30th anniversary of the San Francisco AIDS Foundation, is a triumphant uptempo anthem about friendship and loss and survival; one would have to be made of stone not to be moved.
On stage, the angelic-looking Di Pasqua is ever youthful, ever hopeful, ever yearning. In his patter, he showed a bit of mischief, particularly in his chemistry with Holland, who played guitar as well as providing backup vocals. His fans seem to be loyalists, unafraid to shout out greetings and remarks from the audience, which Di Pasqua responded to with amiable good humor. Whatever your gender or orientation, it's hard not to fall in love with the guy, he's so open and playful.
Also supporting Di Pasqua were bassist Matt Scharfglass and percussionist Kenji Tajima. Tajima had a way of creating sounds that were like driving heartbeats, so central to the message of Di Pasqua's songs.
We, whether artists or reviewers, have very little control over who "succeeds" in this business, as measured by fame and wealth; luck plays a large part. But whatever the future holds for Tim Di Pasqua, he can rest secure in the knowledge that his is the kind of music that heals and changes lives. What could be a higher calling?
"The Music and Lyrics Project"
Don't Tell Mama  –  January 30
Category: Reviews