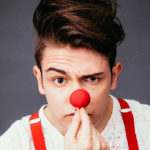 One of the rare joys of cabaret reviewing (and cabaret going, for that matter) is coming upon a show that is unlike anything else that's out there—a new and unexpected experience. The Circus Is Cancelled, which played recently at the Duplex, is one such show. It featured a clown, a mime, a magician, a pianist, a ukulele player, a whistler, a comedian, an actor, an impressionist, a storyteller, a media artist, a singer and a songwriter. It is a cast that might have overcrowded the small Duplex stage were it not for the fact that all of them were embodied in one remarkable performer, Patrick Swailes Caldwell.
After an announcer intoned with regret that, alas, the circus had been cancelled, the lights came up on Caldwell entering through the audience as a sad-sack clown reminiscent of Emmett Kelly, in red nose, harlequin suit, and Pulcinella hat, silently bereft that his moment in the circus spotlight had been denied. As he mounted the stage and glumly looked out at the audience, he realized that in this space (beautifully, theatrically laid out with props and furniture) and on this night, he could become the entire circus on his own. As the thought began to take shape, he moved from Kelly to Charlie Chaplin. He managed to mine a few minutes of laughs out of just a stool and a guitar case, and that was but one of his minor accomplishments in this odd, exhilarating, highly entertaining hour of major moments.
When he eventually shed the clown attire, he proved equally adept at the spoken portions of the evening, whether the subject was Shakespeare, Daniel Day Lewis (his obsession with the actor was uncanny, strange and hilarious) and his own father. His use of audience participation (of which I am not generally fond) was very successful, and his multimedia effects (with lights and camera on stage projecting the magic as it happened) were equally impressive. There were surprises, shocks, laughs, twists, and impressive tricks, the latter culminating in a mash-up of Lewis and magic that utilized a phantom thread (of course). I won't spoil anything, but suffice to say there were equal parts gasps, wide eyes, and disbelieving laughter moving and growing through the audience for the entire set piece. The sheer audacity of this "11 o'clock number" was matched only by its accomplishment.
At one point in a monologue, Patrick Swailes Caldwell spoke the words, "Sometimes I feel I'll never be great…" He was wrong.
The Duplex – May 14
Category: Reviews