The 29th edition of the New York Cabaret Convention, presented by the Mabel Mercer Foundation, took place October 9-12 at the Rose Theater at Jazz at Lincoln Center. Penelope Thomas, Gerry Geddes, Robert Windeler, and Mark Dundas Wood covered the four nights for us. Following are their thoughts.
Cabaret Today! – by Penelope Thomas
The opening night offered a mixed, mainly themeless program. Bill Charlap's full-bodied and expansive piano instrumental of "'S Wonderful" was a New York-ish and wonderful way to start, then he kept things in the family by accompanying his mother, Sandy Stewart.
Corinna Sowers Adler had apparently been roped into singing "Glitter and Be Gay," but showed no signs of duress in her virtuosic vocal range and comic timing; she made what could have been an exercise in showing off an exercise in artistry. 17-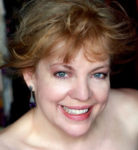 year-old Joie Bianco looked as though she was on her way to her prom, but sounded like a seasoned jazz singer, swinging "Day by Day" and "What a Diff'rence a Day Made." Jaedyn Hanna, also just 17, brought a remarkable, bright vocal power to "Someone Like You"; she's a singer you'll want to keep your eye on as her career develops. Another notable younger talent was Gustavo Palma, who sang "You Don't Know Me."
Eric Yves Garcia was a great representative of the saloon singer, accompanying himself on piano for a Bobby Short-inspired medley about Manhattan and then welcoming Carole J Bufford to the stage for a song-and-dance duet. Meg Flather's storytelling and focus in "Another Winter in a Summer Town" brought some of the most poignant moments of the night. Danny Bacher's samba version of "Hooray for Hollywood" offered a few very funny updated lyrics about vegans and Uber, and his own wonderful soprano sax solo. Celebrating what would have been John Lennon's 78th birthday, Marissa Mulder sang a most evocatively simple and deeply felt version of his song "Love." David Baida brought some Philly soul to the evening with his excellent countertenor in "I'm Stone in Love with You." Gregory Generet featured his hall-filling baritone sound in "Angel Eyes."
In a three-hour concert, there were more good singers than there is room to mention; a gala evening is not enough time to spend with the best of them. Mabel Mercer Foundation Artistic Director KT Sullivan's warm and witty hosting showed genuine pride and pleasure in being able to showcase these accomplished artists. She closed the evening with "All the Things You Are," sung as a tribute to this year's recipient of The Mabel Mercer Award, Carol Woods, who was not able to attend the festivities.
The Night and the Music: Celebrating Rosemary Clooney, Barbara Cook and Julie Wilson – by Gerry Geddes
The second night was devoted to three iconic women of cabaret: Rosemary Clooney, Barbara Cook, and Julie Wilson. It was written and hosted by Deborah Grace Winer, who knew all three ladies and wrote a book about them, The Night and the Music. While each one had signature songs of sorts, one could pretty much pick any great song from the American Songbook or Broadway because the singers performed and recorded so much great material. The icons were known for the style, the storytelling, and the magic that filled, particularly, their later cabaret years. Sadly, these qualities were in short supply at the Rose Theater. The evening was so poorly curated that it was as though in assigning songs, Winer had in one hand a pack of cards with performers' names on them and in the other a pack with the names of the honorees; the cards were then shuffled with little thought to appropriateness.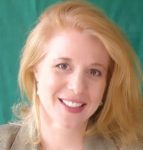 The opening performance set the uneven tone of the evening with jazz singer Karrin Allyson doing a version of "The Surrey with the Fringe on Top" that replaced Cook's ecstatic longing with uninventive jazz phrasing and following it with a "Body and Soul" devoid of Wilson's incisive phrasing and storytelling. Linda Purl performed an adequate "Them There Eyes," but it was more Ann-Margret than Rosemary Clooney. Similarly, Darius de Haas's vocally impressive "A Song for You" was more in the Donny Hathaway songbook than Barbara Cook's. He returned later for a beautifully measured "Sophisticated Lady" in honor of Clooney's Blue Rose album with the Duke Ellington Orchestra. Natalie Douglas had fun with "It's Better with a Band," but it lacked the unadulterated joy of the Cook original. She also fared better with her second number, "How Long Has This Been Going On?," but was hampered by the workmanlike, uninspired accompaniment of the trio—John Oddo on piano, Jay Leonhart, on bass and Ray Marchica on drums. The lack of musical invention and connection with the vocalists was a recurring problem, exacerbated by the distance between the singers and the trio.
The lackluster accompaniment was put in sharp relief by Tedd Firth's magic on the keyboards accompanying Marilyn Maye, a star who actually resides in the same constellation as the honorees. Maye tore into "I'm Still Here" with unbridled energy and later captivated the audience with a medley of "As Time Goes By," "The Secret of Life," and "Here's To Life." While I could have done without the overdone and tired-to-begin-with third number, she salvaged it with some new and quite-good lyrics, connecting it more directly to the rest of the medley. Karen Ziemba stole the evening with a delightfully zany "My Dog Loves Your Dog" and later with a warm and understated "Count Your Blessings."
Unfortunately the pluses were far outweighed by the minuses. James Naughton's funereally paced and intoned "The Folks Who Live on the Hill" honored neither the song nor Clooney. Nicolas King, while possessing an impressive instrument, followed a cartoonish, lounge-y "You Wanna Bet" with a medley of "I Fall in Love Too Easily" and "Blame It on My Youth" that started strong but devolved into face-making, jazz-ish cliché.
Kenita Miller, from Once on This Island, needed lower wattage and more heat and connection to come close to recalling Clooney and Wilson in her selections, which were filled with swoops and melisma and shouting, and were devoid of the true feeling with which the honorees invested their performances. For her second number, she was saddled, through no fault of her own, with the nadir of the show. Wanting to find a song that embodied the strength, the legacy, and the talent of the legendary women, Winer decided on "And Then There's Maude" (the TV theme)—a classless (bordering on insulting) tribute to three singers who were the height of class and style.
Winer's patter offered personal reminiscences and historical perspective that, while entertaining and informative, were placed and paced in as scattershot a manner as the rest of the evening. The stories and the performances ended up blurring into a tribute to some amalgam of the three ladies and lost individuality and specificity.
The Best of Jerry Herman – by Robert Windeler
In my opinion, this was the best of the four nights, featuring the most committed company of artists and accompanists, truest to their honoree's finest songs while at the same time offering their own original interpretations of them. Great credit for this highly successful evening must also goes to Klea Blackhust, a curator and host at the convention for a lucky-for-all-of-us seventh time. Mermanesque, to be sure, Blackhurst is also largely upbeat, funny, and, despite a somewhat casual narrative style, a crisp taskmaster able to bring the first act, at least, in at a record hour and ten minutes. Aptly, she opened the proceedings with "I Put My Hand In" from Broadway's Hello, Dolly! interspersed with "Just Leave Everything to Me" from the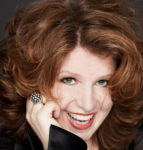 movie version. She followed this with the exuberant "It's Today!" from Mame.
Dolly and Mame, Herman's two megahits, were accorded deserved attention throughout the show, but so were the composer's two underappreciated flops, Dear World and Mack and Mabel, as was his comeback triumph, La Cage Aux Folles. Brent Barrett, accompanied by Jim Followell on piano, nailed this last show with two luscious, uncluttered ballads, "Look Over There" and "Song on the Sand." And Eric Michael Gillett, despite sitting down because of recent knee replacements, evinced the full power of the La Cage anthem "I Am What I Am"; he was accompanied by Mike Petry on piano.
Quite a few of the best vocal renditions in this show relied only on mainly subtle and unobtrusive piano accompaniment. Celia Berk's ravishing "It Only Takes a Moment"—a song she may have been born to sing—said much more than is usually offered in its Hello Dolly! context on stage, with only a sleek but spare Jon Weber underpinning. Weber also allowed Christine Pedi to shimmer on her own with a straight-ahead but effective "Dancing" from the same show. (Not to worry, Pedi quickly returned to her Forbidden Broadway roots to display the delicious parody in Herman's prescient paean to industrial waste, "In the Spring of Next Year" from Dear World.)
Kristoffer Lowe (backed by Tracy Stark) plumbed new depths with his compelling rendition of "I Won't Send Roses," from Mack and Mabel. And Josephine Sanges needed only John M. Cook's piano to underscore her angelic "I've Never Said I Love You" (from Dear World). Okay, Valerie Lemon did add the very welcome tones of Adrian Daurov's cello to the piano of Phil Hall for her sweetly soaring "Kiss Her Now"—also from Dear World, the surprising but most welcome record-holder as the Herman show furnishing the most songs in this tribute. Lemon also wins my vote for wardrobe. Among a seeming week-long sea of short, sleeveless, black cocktail dresses, her diaphanous, violet floor-length gown and stole evoked something the Madwoman of Chaillot, herself, might have worn in fin de siècle Paris.
The Night They Invented Champagne: The Lyrics of Alan Jay Lerner – by Mark Dundas Wood
The final evening of the Convention celebrated the centenary of the birth of lyricist and librettist Alan Jay Lerner, who has been (and/or will be) feted elsewhere in NYC cabaret clubs this year in shows featuring such performers as KT Sullivan and Mark Nadler, Steve Ross, and Richard Holbrook. At this Friday night finale, Nadler, Ross, and Holbrook were all on the bill—and Sullivan was, of course, on the premises.
Though Lerner was most famously paired with Frederick Loewe throughout his career, he worked with a number of other composers as well. This show seemed to pay particular attention to his collaborations with Burton Lane. Stearns Matthews got the evening off to a fitting start with a crystalline and robust performance of Lerner/Lane's anthem of existential awareness, "On a Clear Day You Can See Forever" Following this prologue, the perennial co-hosting team of Andrea Marcovicci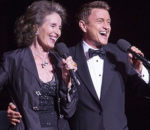 and Jeff Harnar came to the stage, where they toasted each other with the whimsical Lerner/Lane globe-trot "You're All the World to Me."
Featured performers then went on with their parade of Lerner classics, moving things along at a brisk pace. Ross performed a pensive version of Brigadoon's "The Heather on the Hill" (music by Loewe) and was then joined by Shana Farr on a second number from that show, "From This Day On." The duo's set was briefly interrupted when the Donald F. Smith Award was presented to Farr, who subsequently delivered a fiery yet elegant "Show Me" (Loewe).
The team of Barbara Fasano and Eric Comstock presented a mini-set, beginning and ending with an intricately arranged "He (She) Wasn't You" (Lane). The highlight of the sequence was Fasano's splendid mash-up of "Another Autumn" (Loewe) and "Too Late Now" (Lane). Other audience faves in Act 1 included Holbrook ("How Could You Believe Me When I Said I Loved You When You Know I've Been a Liar All My Life"—Lane), Gabrielle Stravelli ("On the Street Where You Live"—Loewe), Leanne Borghesi ("No Man Is Worth It"—Charles Strouse), and Nadler ("Garbage Isn't What It Used to Be"—Gerard Kenny). Of these four, only Nadler made the choice to incorporate a tap dance sequence.
The second act saw the bestowment of another special honor, The Julie Wilson Award, presented to Joshua Dixon, who then sang a thrilling "I Could Have Danced All Night" (Loewe). Continuing in the My Fair Lady line—but in a much different mode—Sally Mayes dished up a cheeky "Get Me to the Church on Time."
An emotionally raw yet technically controlled version of "If Ever I Would Leave You" (Loewe) made Barbara Brussell's spot perhaps the most effective turn in the entire program. It's one thing to build toward such a heart-shredding performance within your own set, but to deliver it so powerfully as your sole number in a group show is the mark of a top-of-the-line cabaret artist.
Karen Akers ("Here I'll Stay"—Kurt Weill) and Sidney Myer ("I'm Glad I'm Not Young Anymore"—Loewe) also made fine contributions to the show's second half. Eventually, Marcovicci and Harner returned for what seemed to be the closing performances of the evening.
But no. Marta Sanders came on for the last solo spot: an explosive version of "What Did I Have That I Don't Have" (Lane). Then all of the performers returned for a bit of "The Night They Invented Champagne" (Loewe), bringing the exuberant Lerner-fest—and this year's Convention—to an effervescent conclusion.
Category: Reviews