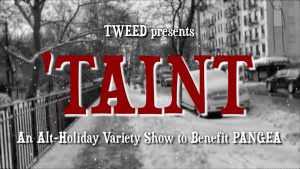 Tweed presents 'TAINT (cause it 'taint Christmas, and it 'taint New Year's)—An Alt-Holiday Variety Show to benefit Pangea, the terrific cabaret that serves as home to downtown performers and the best of NYC cabaret alike.  In these pandemic times, restaurants and clubs are under duress from the distancing and quarantining and all the other nightmarish requirements in response to Covid-19.  Director Kevin Malony of Tweed TheaterWorks has gathered together a generous sampling of the Pangea family of performers to perform special material filmed both on the stage and from their individual homes.
There isn't an actual theme for the evening (other than fund-raising) but whether intentional or not, a number of the songs have to do with food and restaurants, including the funny opener, "Cheeseboard of Shattered Dreams" done with delightful deadpan by Bergman & Bloustein.  Poor Baby Bree follows with "Gee, But I Like Music with My Meals" (Nat D. Ayer, Seymour Brown) from 1911, extolling the benefits music has for your appetite.  David Ilku offers a hilarious sketch of a social blowhard lording it over his friends while out for drinks and dinner.
Carol Lipnik has found a perfect match in the songs of Harry Nilsson and charmingly revives "Think About Your Troubles." Cleo Berlin and Becky Kohm skate to the edges of good taste and gleefully glide into biting social satire with "I'm Dreaming of a White People Christmas."  They are splitting sides while caressing ears with smooth, tight harmonies. It's quite impressive.
Amber Martin and Brett Avery blend as beautifully touching hearts with Don Williams's "If I Needed You," injecting a touching dash of country melancholy to the proceedings.  The brilliant Steve Hayes gives us a litany of advice from his mother—a dizzying stream-of-consciousness compendium of words of wisdom delivered with the rhythm and electricity of a fine jazz musician riffing.  Rachelle Garniez does a three-minute peek at what would have been her 2020 "edition" of her annual Farewell Party celebrating the lives and art of those we have lost in the previous year.  Her inspired choice is a warm, hopeful, gentle  "I Can See Clearly Now," which was written and sung by Johnny Nash who passed away last year.  In an hour of treasures, this was my favorite.
Joseph Kelker uses every color of his haunting voice to provide a goth aria about sex with a ghost that only the downtown performance world could provide.  The hilarious Kristine Zbornik revives a piano bar standard from yesteryear, zanily bemoaning that "Everybody's F**king  but Me" (Dick Shreve).  Charles Busch gets serious with an exquisitely minimalist exploration of "You Must Believe in Spring" (Michel Legrand, Jacques Demy).  Matthew Dean Marsh appears twice: first with Sylver Wallace, and then solo. While the material is quite good, both numbers are lip-synced and the pre-recorded sound just can't stand up against all the live brilliance surrounding it.
David Cale, a musical imp if ever there was one, relates a saga of mistaken identity called "That Isn't Me." The legendary Flotilla DeBarge transforms "Cabaret" (John Kander, Fred Ebb) into a contemplative and literal PSA for Pangea with a few trademark lyrical improvements like "…put down the knitting, the meth pipe, and the broom…gotta clean! gotta clean!"  Claywoman, a 500-million-year-old monologist and visitor to earth, took a few minutes to surreally warn us that if Pangea goes under so does the entire universe. So, it's up to us!  The show closes with Vicky Kristina Barcelona reprising "Hold On," a memorable moment from their acclaimed (by me and many others) tribute to Tom Waits. Incorporated into the performance is a virtual slide show of photos by Albie Mitchell that captures some of the magic and excitement Pangea offers to New York nightlife.  The sentiment of the song and the talent and energy of the trio is the perfect ending to what is surely one of the most accomplished streaming shows I have seen.
Special mention must be made of the talent and taste of Kevin Malony in putting this whole thing together.  I can only wish that each club in the city finds such a guardian angel in these terrible times.
'TAINT will be streaming through January 31`at showtix4u.com/stream.
Category: News / Reviews / Commentary